Technology is all about making life easier. Why do things manually when you can harness hardware to do it for you. That is the premise behind Elgato's Stream Deck, which is a programmable hotkey pad whose 15 OLED keys are mapped to practically any action. It's a boon for video streamers because it enables easy configuration for a wide range of actions. Examples include changing scenes, altering music and, well, launching myriad of effects. Beats the heck out of faffing around with the keyboard and mouse, and what's cool is that each key can launch multiple actions, too.
Having 15 keys is great, but it's overkill for many. Looking to tap into the market whose needs are more conservative, Elgato launched the Stream Deck Mini - a six-button hotkeypad available for around £80. Let's take a look.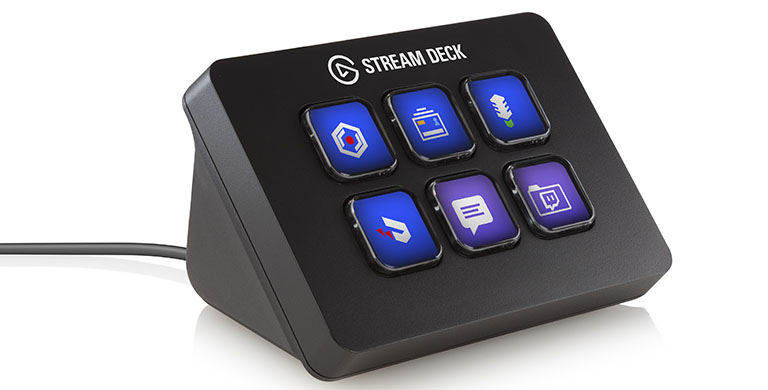 The Stream Deck Mini (SDM) is literally a shrunken-down version of its bigger brother. Those 15 keys are replaced by six, which are otherwise identical, so there's scope to create custom key icons, adding per-key folders, creating multiple actions, and integration into all the leading steaming platforms. It's therefore not fair to think of the SDM as a merely a simple external macro-switch box.
The way in which it works is simple. Hook up the USB cable to the computer and Windows will install the necessary drivers, then download SDM's software and away you go.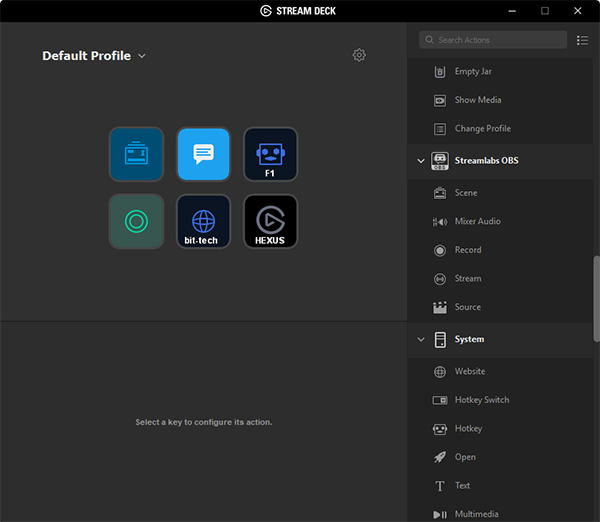 There's a huge number of shortcut defaults built in the package, mainly aimed at the streamer. Multiple common actions for Streamlabs OBS, OBS Studio, Soundboard, Tipeeestream, Twitch, Twitter, XSplit, and YouTube are dragged across to the right and assigned to a key, complete with an immediately recognisable icon. The system is live, so anything moved over is instantly replicated on the unit.
For someone not au fait with the streaming universe, the sheer number of regular shortcuts feels mind-boggling, but there's nothing that Elgato can do about that; it's an industry problem that so many programs vie to do the same thing.
Back on point, extending the usefulness further, if six keys are not enough, each key can be configured as the top of a folder, where a further five actions are tied to it one level down. The downside is that you do lose that key to folder duties - for example, having three folder keys reduces the available amount to just three - so it would make sense for the SDM to have a dedicated, smaller folder button on the side.
But arguably the best feature is the ability of the multi-action tool, which takes up a key, where a single push activates a number of actions in sequence. You can, for example, launch a stream and Tweet about it, change scenes, and display ads. To this end, nine consecutive actions are available. I use it to launch all my commonly-used productivity apps in one fell swoop.
The massive choice of actions and intelligent key mapping provides far more functionality than six ordinary keys would otherwise offer. Take time in setting it up exactly to your preferences, which takes about 30 minutes, and SDM becomes a powerful tool.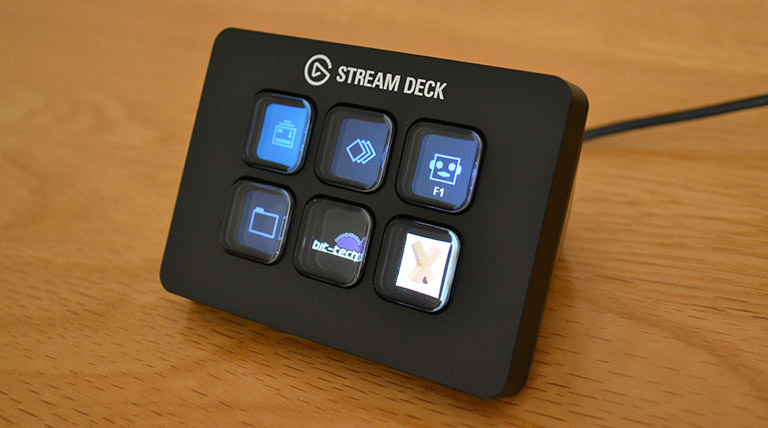 Of course, you needn't be a streamer for it to make sense. The customisable nature means those wanting easy access to frequently-used applications can also take advantage, and it's a boon for accessing a number of programs used in everyday work. It's also useful for mapping keys and actions in games, complete with lifelike icons.
And customisable is the key (if you excuse the pun) word for the SDM. Each key's graphic icon can be updated by using the Key Creator. It's easy to use, but we wonder why such functionality is on a web page rather than built into the software itself? That makes no sense. Or you can simply add a 72x72-pixel graphic of your own.
Unlike its bigger brother, the SDM has had a fundamental redesign as well as unit shrinkage. Now measuring 80mm x 60mm x 58mm, it eschews the dual-orientation nature of the original - it could either be flat, or angled via a stand, but that caused the USB cable to protrude from the top - for an altogether sleeker look.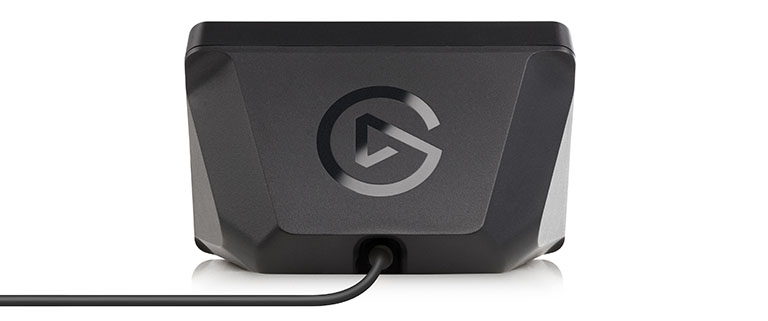 It's now angled 45° by default, and the keys are clearly readable in any light. The USB cable is now tucked at the bottom of the unit, which makes more sense, and the whole unit is tidier. There's a unit-wide rubber pad at the bottom that offers decent contact with any surface, but I found that pressing multiple buttons in quick order caused it to sometimes slip back. Given the size and weight (160g) of the unit, I'm not sure how Elgato could make it sturdier.
The adjustable-brightness keys are excellent, with a satisfying feel on each depress, and the gap between them means there's little chance of accidental presses.
The Stream Deck Mini, priced at £80, is born from the understanding that while the original 15-key device is great for the streaming aficionado, a smaller, sleeker, cheaper device opens up the market. Now reduced to six buttons, along with an updated design that's better in every regard, the SDM's usefulness is extended via multi-action and folder functionality. You don't need to be a streamer for the SDM to make sense, and I've been using it as a shortcut and multi-action tool in my everyday work - it works better than the limited usefulness of my keyboard.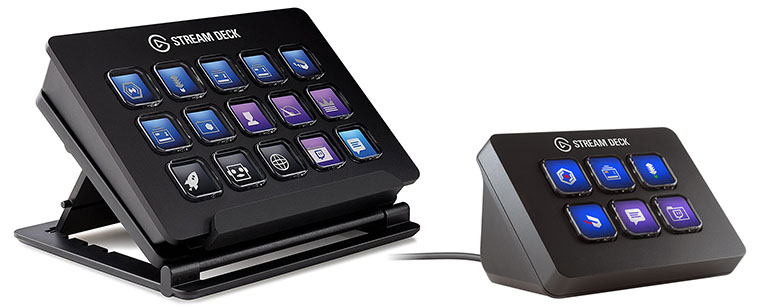 Way smaller than the original
Bottom line: the £80 Elgato Stream Deck Mini is a great tool for the vast majority of streamers and those looking to boost application productivity.
The Good

The Bad

Solid hardware design
Generally robust software
Near-limitless configuration
Great for streamers and productivity
OLED keys are great

Key Creator ought to be in software
Can occasionally slip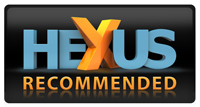 Elgato Stream Deck Mini
HEXUS.where2buy*
The Elgato Stream Deck Mini is available to purchase from Scan Computers.
HEXUS.right2reply
At HEXUS, we invite the companies whose products we test to comment on our articles. If any company representatives for the products reviewed choose to respond, we'll publish their commentary here verbatim.