Handsets heads-up
In terms of the actual handsets on offer, I had a gander at the six offerings set to hit the high street on 21 October: HTC's Mozart, Trophy and HD7, LG's Optimus, Samsung's Omnia 7 and Dell's Venue pro.
The HTC Mozart handset is exclusive to Orange and boasts a 3.7 inch screen, 8MP camera with xenon flash and 720p video recording but is distinctive because of its super-smooth and seamless aluminium shell, which wraps around the phone and is really comfortable to hold. The one I saw also had Orange tiles on the home page for Orange Wednesday and the like.
The HTC Trophy is exclusive to Vodafone and includes a 5MP camera, 3.8 inch screen, Dolby mobile sound and perhaps bears some resemblance to the HTC legend- and is believed to be similarly priced. It also has an 'HTC hub' on its home screen, which looks pretty similar to the home screen of the present Desire or Wildfire, but the widgets are much more animated- think elaborate weather effects!
The Vodafone bloke manning the stand told me the handset will come free with a £25 a month 2 year contract and I could get 300 minutes, unlimited texts and 500Mb of data for the price.
Finally, O2 will be the only network to sell HTC's HD7, with a massive 4.3 inch 800 x 480 pixel screen (the biggest screen to grace a WP7 handset at present and same size as the Desire HD) as well as a 5MP camera and slightly plastic-y kickstand for watching movies, which could nonetheless prove handy.
Although the screen was beautiful and the UI nice and speedy (like all the handsets) I did found it quite tricky to hold but maybe that's due to my mini girl hands. Unsurprisingly the phone will be one of the pricier WP7 handsets and will cost around £40 a month for 900 minutes, unlimited texts and 750Mb of data, according to O2's man.
Samsung let the cat of the bag early, revealing the spec of its Omnia 7 phone ahead of the event but it was announced that the handset will be offered from Orange, Three and T-Mobile. It's a neat, boxy option and Orange said it will cost about £40 per month on a two year contract, while Three and T-Mobile have both plumped for a £35 per month price tag. I found the panoramic photo function on the handset fun to use.
Similarly, LG couldn't help unveiling its Optimus 7 handset ahead of the big event. Although the handset is not one of the prettiest offerings, I liked the straightforward physical search and 'back' buttons below the screen which were pleasantly squishy. It comes with Scan Search and can play to DLNA, which although I couldn't see in action, means that a user can apparently simply 'swipe' a video or film from their handset to their TV in one action without any hassle, which sounds cool. The handset is set to start at £30 a month for two years making it one of the cheaper offerings.
Unfortunately, Dell's venue Pro was the only handset unveiled that I didn't get to play with but its main competitor is probably the BlackBerry Torch. It's targeted at business users and has a sliding Qwerty keyboard and 4.1 inch touch screen. As well as a 5MP camera it is said to be 'ruggedized' with scratch-resistant glass and should be out in time for Christmas.
Editor's comment: I had a quick look at the Dell handset. It was indeed nice and rugged and the vertical sliding QWERTY is a novel alternative to having to switch to landscape - and two hands - if you want to use the hard keyboard. It was only shown at a special WP7-for-business presentation, which gives you an idea of how Dell will be positioning it, and is expected to launch in November.
HTC Mozart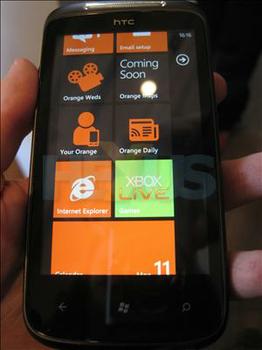 HTC Trophy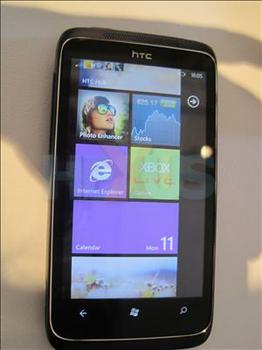 HTC HD7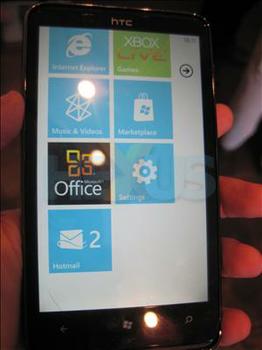 Samsung Omnia 7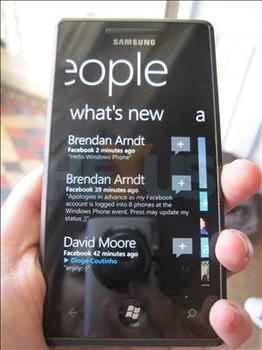 LG Optimus 7