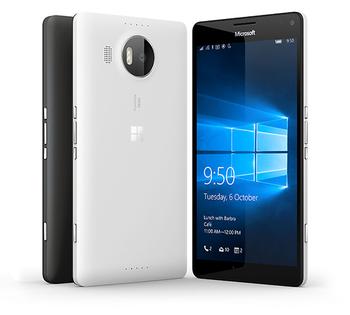 Wouldn't it be nice if you could buy a flagship smartphone and get another one for a friend or family member at no extra cost? Well, now you can, albeit with a rather large proviso: it has to be a Windows Phone.
As of this week, Microsoft Stores in the US and Canada are running a limited-time BOGOF promotion that will see purchasers of the Lumia 950 XL awarded with a Lumia 950 for free, potentially saving $549 US. It's the sort of offer that could break the Internet were it applied to the iPhone 6S and iPhone SE, yet while Windows handsets aren't as sought after, this remains a noteworthy deal as Microsoft seeks to shift available stock.
The arrival of Microsoft's flagship smartphones back in October 2015 did little to change the fortunes of the firm's ill-fated Windows Phones. Met largely with a negative response from consumers and reviewers alike, the latest handsets haven't managed to claw away sales from competing Android and iPhone devices, leaving Windows Phone with less than three per cent of the market.
Going by Microsoft's own figures, just 2.3 million Lumia smartphones were sold during its third quarter, representing a near-75 per cent year-on-year decline. Putting that number into perspective, Apple shifted 48 million iPhones in the same period.
Why, then, would you want to buy into a seemingly irrelevant platform? Well, Windows 10 mobile has evolved reasonably well over the past few months courtesy of regular software updates, and Microsoft doesn't appear to be throwing in the towel just yet. Terry Myerson, Microsoft's VP of Windows Devices, has recently reiterated the firm's intention "to support the Windows 10 Mobile platform for many years," and the company is expected to make a big play for mobile in 2017 with the launch of a rumoured Surface Phone.
There has been no mention yet of whether or not the Lumia BOGOF promotion will be extended to other regions, but would you actually be interested if it were available to you?