Introduction
Microsoft isn't new to tablets - hands up who remembers the UMPC? - but having halfheartedly dabbled with mobile form factors for the best part of a decade, the Redmond outfit has had to sit back and watch as Apple launched a rocket dubbed the iPad.
We did wonder, who the hell wants to carry around 10in slabs when we've all got smartphones? But take a trip round London on the Tube and the answer is clear; a lot of people. iPad sales are through the roof, Google (and various partners) are getting their taste of the pie with Android tablets, and Microsoft desperately wants in on the action.
So much so, that the big M isn't going to live in the hope that one of its partners will deliver a killer product. The likes of Asus, Dell, HP, Lenovo and various others are of course lining up a slew of Windows 8 tablets, but Microsoft wants to make some noise and it's doing so by launching a tablet all of its own making, the Surface.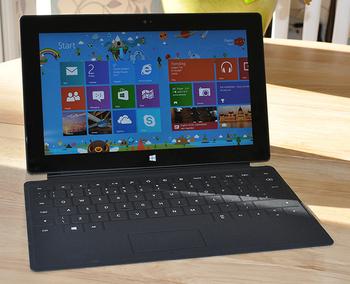 And not just one model, mind you. The Surface is being introduced in two unique variants; Surface with Windows RT and Surface with Windows 8 Pro.
Of course, the mere mention of a Microsoft Surface may give you visions of large, touchscreen coffee tables, but that particular technology now goes by the name of PixelSense. Surface, from here on in, is the name given to Microsoft tablets, and it's a brand that may well extend into other areas; rumours of a Surface smartphone are already afoot.
It's all part of Microsoft's transition from a software supplier to a devices-and-services company, and the Surface is the first product in history to offer a completely-Microsoft experience; it runs Windows, it's designed by Microsoft engineers, and you can buy one from Microsoft's own stores.
Surface RT vs. Surface Pro
Let's get the obvious complication out of the way first; what is the difference between the RT and Pro variants of the Surface tablet?
In a nutshell, Windows RT is a version of the Windows 8 operating system designed using the new ARM-compatible Windows Runtime. The Surface with Windows 8 Pro, meanwhile, using the regular Windows 8 Pro operating system, is based around Intel's ubiquitous x86 architecture.
The silicon powering the device is of little importance to the casual user, but there is a key limitation worth knowing about; Windows RT won't run any software designed for x86 platforms - and yes, that means all the programs you use on your Windows 7 PC. Instead, the ARM-based operating system relies on a couple of programs bundled by Microsoft - including Internet Explorer and a streamlined Office Suite - and apps downloaded from the new Windows Store.
Launch Date

October 26, 2012

TBC

Pricing

From £399

TBC

CPU

Nvidia Tegra 3 (quad-core)

Third-generation Intel Core i5 with HD 4000 graphics

Software

Windows RT is an exciting new version of Microsoft Windows that is built to run on ARM-based tablets and PCs. Works exclusively with apps available in the Windows Store.

Runs current Windows 7 desktop applications and integrates with your existing enterprise management infrastructure. Use the programs and the apps available in the Windows Store.

Productivity

Get more done with up to 8 hours of battery life. Surface with Windows RT comes installed with Microsoft Office Home and Student 2013 RT.

Surface with Windows 8 Pro supports the full Office experience. Run Outlook, Word, SharePoint Designer, PowerPoint and more. Surface with Windows 8 Pro can run all of the applications that you've used on previous version of Windows.

Applications

Microsoft Office Home and Student 2013 RT Preview, (Word, PowerPoint, Excel, OneNote); Windows Mail and Messaging; SkyDrive; Internet Explorer 10; Bing; Xbox Music, Video, and Games.

Windows Mail and Messaging; SkyDrive; Internet Explorer 10; Bing; Xbox Music, Video, and Games.

Security

Surface with Windows RT features device encryption and comes with Windows Defender.

Windows 8 Pro provides enhanced networking and IT management. Surface with Windows 8 Pro is secured with BitLocker drive encryption, use Remote Desktop, Active Directory, and Client Hyper-V. Compatible with third party applications.

Connectivity

Always connected, even when in standby mode. Connected standby keeps apps up-to-date.

Connectivity off when hibernating/sleeping to preserve battery.

Size

24.45cm x 17.19cm x 0.93cm

27.45cm x 17.29cm x 1.32cm

Weight

676g

903g

Battery

31.5 Whr

42 Whr

Storage Capacities

32GB, 64GB

64GB, 128GB

Screen

10.6in, 16:9, 1366x768

10.6in, 16:9, 1920x1080

Ports

Stereo speakers
Full-size USB 2.0
microSDXC card slot
Headset jack
HD video out port
Cover port

Stereo speakers
Full-size USB 3.0
microSDXC card slot
Headset jack
Mini DisplayPort
Cover port
Comparing the two side-by-side paints a clearer picture, but if you're still struggling to get your head around Microsoft's two-pronged strategy, think of it like this; Surface with Windows RT is a lot like an iPad and relies heavily on a built-in app store; Surface with Windows 8 Pro does all of the aforementioned, but it's also a full-on PC capable of running x86 programs such as Photoshop and Outlook.
On the face of it, Surface with Windows 8 Pro appears to be the one to go for. Sure, it's a little thicker and heavier than its RT sibling, but that's a small price to pay for a complete Windows experience in a mobile form factor. However, seeing as the Pro variant is only listed as 'coming soon,' we're taking the already-available Surface with Windows RT for a spin.