Yesterday HEXUS was among the first to publish an in-depth review of the new Intel Core i9-7980XE (14nm Skylake-X). In our overclocking tests we found it wasn't too difficult to achieve a stable 4.5GHz on all cores. That made a significant difference in some tests, moving the CPU from an approx 8 per cent lead in Cinebench against the AMD Threadripper 1950X to a resounding 30 per cent performance advantage. Meanwhile, in 3DMark Time Spy, the OC we achieved nudged the Core i9-7980XE from second place to pole position above AMD's Threadripper 1950X.
The above is what we could do with a little time tweaking the CPU and motherboard settings to achieve a stable overclock but extreme overclocking experts have already gone much further.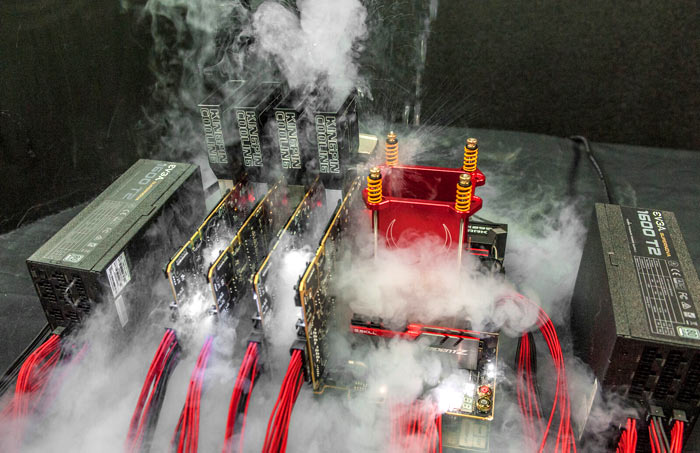 K|NGP|N and EVGA
EVGA wrote to HEXUS to trumpet the news that KingPin had broken four new performance world records using the Intel Core i9 7980XE CPU, Liquid Nitrogen cooling, and the latest EVGA hardware. During his record breaking attempts KingPin ran the new Intel CPU at over 5.7GHz.

KingPin utilised Intel's new 18C/36T CPU on an EVGA X299 DARK Motherboard, partnered with EVGA GeForce GTX 1080 Ti KINGPIN Edition (x4) – 2,354MHz+ GPU / 12,656MHz+ Memory, and powered by two EVGA SuperNOVA 1600 T2 power supplies. You can read more about the setup here. Below you will find links to the four verified 3DMark world records: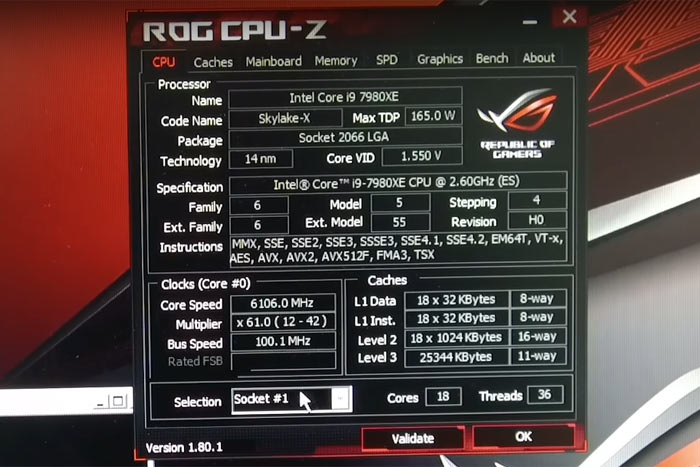 Der8auer and Asus
CPU overclocking expert Der8auer yesterday published a video talking about his LN2 overclocking of the new Intel Core i9 7980XE. In his video it is explained that he got early access to the processor at Asus HQ in Taiwan where he attempted to overclock it as much as possible on the Asus Rampage VI motherboard. You can see in the above screenshot that an overclock of 6106MHz was achieved.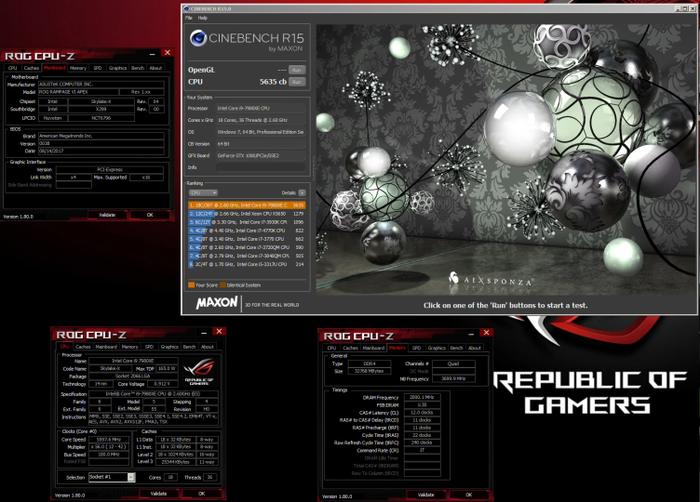 For further world records broken yesterday, thanks to the new Intel Core i9 7980XE, head over to the HWBot records page and search for '7980XE'. You will note that overclocker Splave also did well to claim three CPU benchmarking world records using the processor together with an ASRock X299 OC Formula motherboard. Elsewhere you can find listed the new achievements by KingPin, Der8auer, Elmor and others.