HEXUS published its review of the brand new Intel Core i9-9900K processor at 2pm on Friday. Its "first mainstream 8 core / 16 thread processor" does offer excellent IPC and multi-core performance but the thorny issue is that it comes at quite a price and the chip gets rather hot when overclocked. Furthermore, the solder thermal interface material (STIM) doesn't do the chip any favours as it is more of an issue than an asset according to Roman Hartung, AKA der8auer, in this video.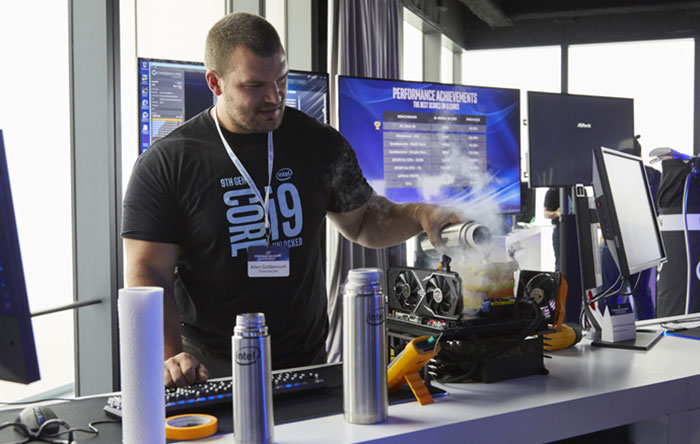 Splave pours
As HEXUS and many other tech sites were sharing their findings and conclusions with regard to the Intel Core i9-9900K as it would be used by a PC enthusiast or gamer, the overclocking experts had already been at work pushing this chip to its limits. On the launch day Intel shared some of the exploits of pro-overclockers such as Splave and Steponz. If you head on over to the dedicated Intel Core i9-9900K page at HWBot you can see all the records this processor has already scalped.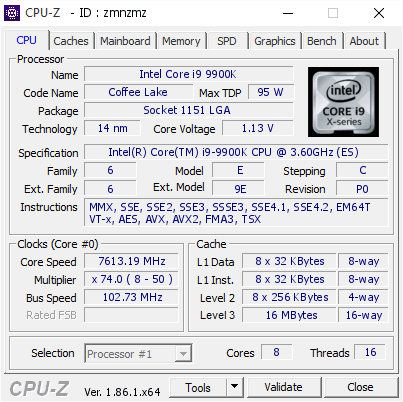 Firstly I think it is worth looking at the CPU frequency record for the 9900K. That was set by der8auer on 12th Oct. The headlining clock speed achieved was 7613.19 MHz on all 8 cores. You can see the CPU-Z screen shot from the OC attempt above. If you are interested you can see the associated overclocking video that was released on Friday. Liquid helium was used as a coolant for this record. The Asus ROG MAXIMUS XI GENE Z390 motherboard was used with 8GB of single channel DDR4 RAM.
Intel says that professional overclockers Allen 'Splave' Golibersuch and Joe 'Steponz' Stepongzi used liquid nitrogen to carefully chill the Intel Core i9-9900K. In total 16 Benchmark records were claimed during the Intel Fall Desktop Launch event. There were 15 global first-place records in the eight-core category achieved, and a new world record in PC Mark 10 against all other processor categories.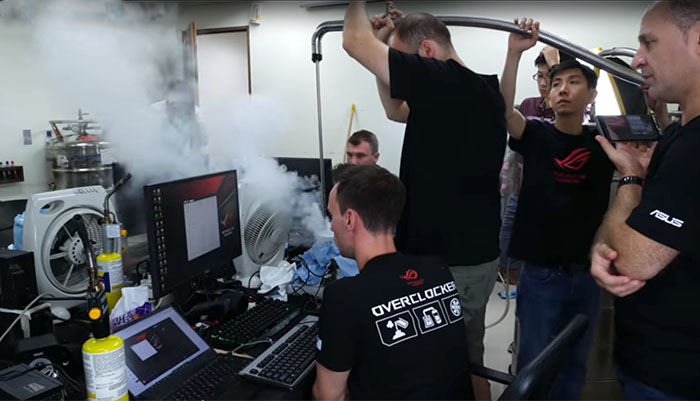 der8auer gets a hand with his helium