The International Conference for High Performance Computing, Networking, Storage, and Analysis, SC18, kicked off on Sunday. If you remember, a week previously, Intel teased quite a bit of information about its upcoming next gen Xeon scalable processors, or Cascade Lake processors for short, ahead of this event. On Sunday Intel augmented the synthetic benchmark data that it had shared previously, with numbers from several real world HPC/AI applications.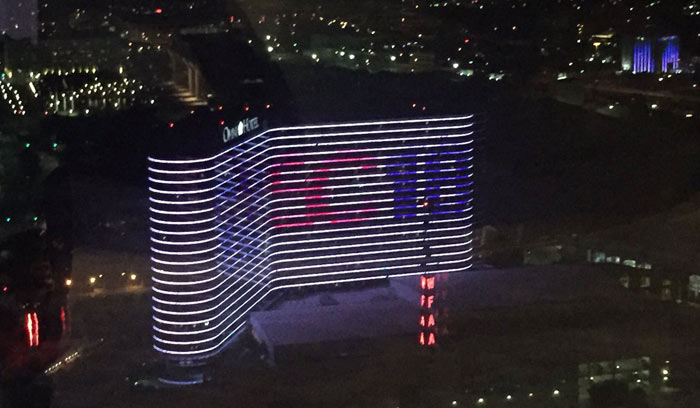 SC18 in Houston, Texas
The Cascade Lake chip that Intel is putting under the spotlight is a 48 core multi-chip package (2x 24C). Intel UPI fuses the creation together and there is an optimised cache, deep learning boost via VNNI, and security mitigations built-in to these chips. To recap the following synthetic benchmarks were shared to demonstrate 'performance leadership', last week:
Linpack up to 1.21x versus Intel Xeon Scalable 8180 processor and 3.4x versus AMD EPYC 7601
Stream Triad up to 1.83x versus Intel Scalable 8180 processor and 1.3x versus AMD EPYC 7601
AI/Deep Learning Inference up to 17x images-per-second versus Intel Xeon Platinum processor at launch.
On Sunday Intel revealed more about the performance of Cascade Lake by sharing performance numbers from several real world HPC/AI applications. You can find the main slide from Intel's new reveal below. Download the PDF from Intel to check through two further pages of small print divulging testing notes and configuration details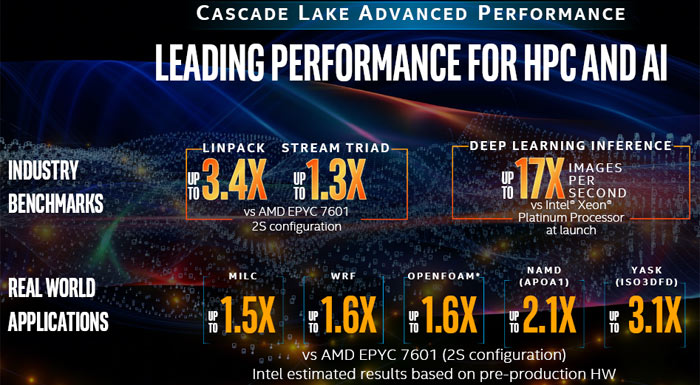 In its accompanying blog post, Intel highlights the large increase in deep learning performance vs its own Xeon Platinum processors (up to 17X). Then, in five real world application tests, it compares the 48C Cascade Lake in 2S configuration against an AMD Epyc 7601 based 2S system. As both systems run with two sockets populated - the Intel machine has 96 cores in total at its disposal, and the AMD one offers 64 physical cores. In the real world tests slide you can see Intel's system comes out ahead by between 1.5x and 3.1x.
Intel's Cascade Lake processors will become available during H1 2019. Meanwhile, AMD's 7nm 'Zen 2' based Epyc processors with up to 64C / 128T are in lab testing now, will be sampling soon, and will launch in 2019. Furthermore, there are rumours that the AMD 'Zen 2' IPC is as much as 29 per cent higher than for 'Zen'.