AMD's Ryzen 9 3950X isn't available as yet, but it is already making an impression in the overclocking world. AMD has shared a video via its Ryzen Twitter account, which shows the new 16C/32T processor roundly beating rivals in three popular computer processing benchmarks.
For the overclocking high-jinks in the video Amit Mehra, AMD Core Design Engineer, was helped by Bill Alverson, a Senior Systems Design Engineer at AMD.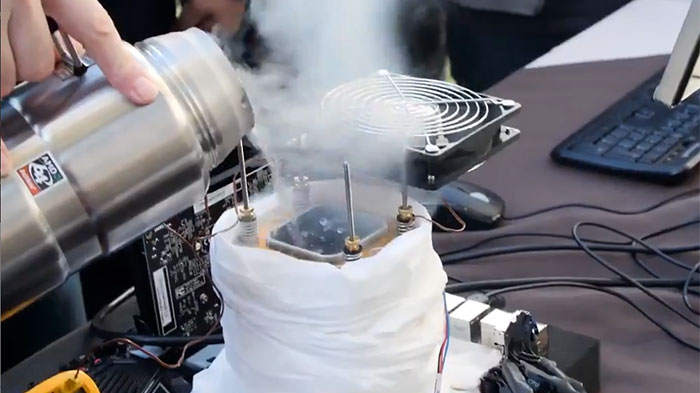 At this E3 event the AMD team used custom BIOS voltage settings and the Ryzen Master tweaking software, plus lashings of LN2, to coax three record breaking scores from the new consumer CPU champ. The scores it achieved and broke world records in were as follows:
Cinebench R15: AMD Ryzen 9 3950X @ 5434 points
Previous holder: Intel Core i9-9960X @ 5320 points
Cinebench R20: AMD Ryzen 9 3950X @ 12167 points
Previous holder: Intel Core i9-7960X @ 10895 points
Geekbench 4: AMD Ryzen 9 3950X @ 65499 points
Previous holder: Intel Core i9-7960X @ 60991points
At the end of its little video clip AMD asserts that the Ryzen 9 3950X delivers the "most performance in a mainstream CPU socket".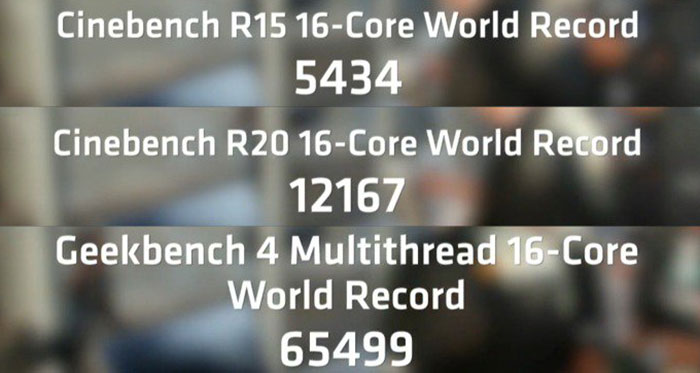 HEXUS published a full report on the launch of the AMD Ryzen 9 3950X, and wrote about the technology behind the latest Ryzen processors, and behind the new RDNA infused Navi graphics processors as the news broke late Monday / early Tuesday. Since that time AMD has kindly shared lots of feature videos as well as the full recorded stream from the Next Horizon Gaming E3 2019 event.
I think it is well worth a watch through the live stream recording for demonstrations and explanations of new technologies such as AMD Fidelity FX, Radeon Anti-lag, and Radeon Image Sharpening (starting at about 45mins). You can read more about these features on the official product pages for the Radeon RX 5700 XT graphics card too.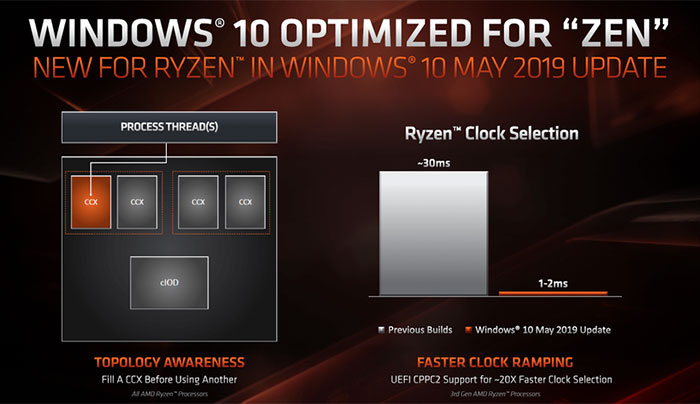 Windows 10 1903 is optimised for faster Zen clock ramping