Images of a purported AMD Navi graphics card PCB has been causing a stir on social media over the weekend. Cutting to the chase, the pair of photos show both sides of what is thought to be an AMD Navi graphics card engineering sample PCB. From studying the PCB pinouts and connectors it is possible to make some educated guesses about the final form the next generation hope for AMD consumer graphics.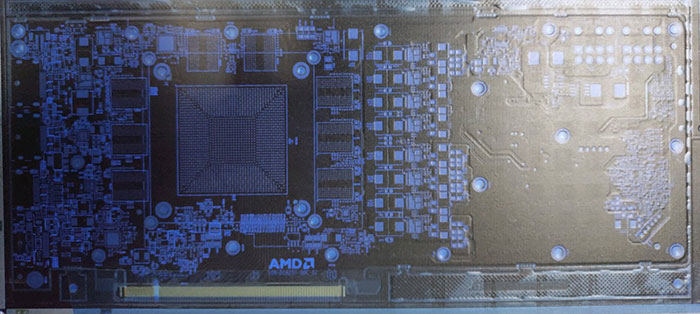 These photos don't match any known AMD board designs previously seen. They are definitely new as if a product based upon this design materialises it will be the first AMD graphics cards to come with GDDR6 memory. There are 8x GDDR6 memory pads present in the design and you can see them surrounding the centre left GPU area. With such a config it is expected that the PCB could host 8GB or 16GB of graphics RAM on a 256-bit interface.
According to various reports based upon these images the card, the PCB is about 25cm long. And the ASIC pad for the GPU is very similar to a Polaris 10 chip, at about 200 to 230mm². Space is ready for an 8+1 phase VRM on the board, and on the topic of power, there are two 8-pin power in connectors on this engineering sample PCB. Some estimate that this particular Navi graphics card design will therefore have a TDP in the range of 250W to 300W. However, I think it is quite typical for an ES card to be over specified in the power department for testing its limits.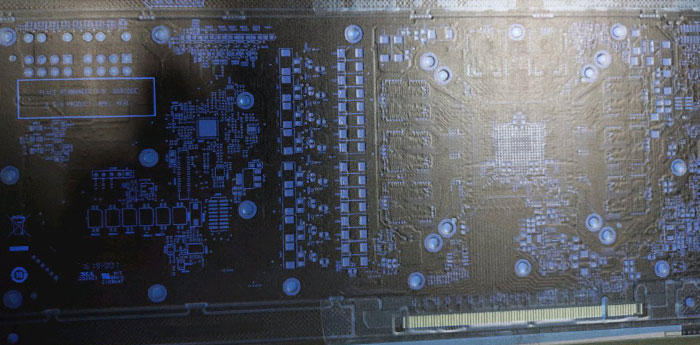 Other notable features of the PCB are; room for dual-BIOS, 1x HDMI port and 2x DisplayPort, plus a USB Type-C display connector, a complex fan header array, and mounting holes for a blower style cooler.
There are, of course, lots of unknowns at this time. So it is good to take the leaks such as the images above with a pinch of salt and, hopefully, all will be revealed in a month or so (at Computex or E3 related events).