AMD is undertaking last minute preparations for its Next Horizon Gaming event at E3 2019. As Dr. Lisa Su readies herself to spill more details on "upcoming products and innovations that will shape the future of gaming," some information has emerged, which suggests we might see as many as five RDNA infused Navi graphics card SKUs at the event.
Twitter hardware enthusiast Komachi shared this Tweet from rra_bot which includes a link to the South Korean Radio Research Agency, a regulatory body that checks electronics components passing through the country's borders. A screenshot of the official regulatory page is embedded below.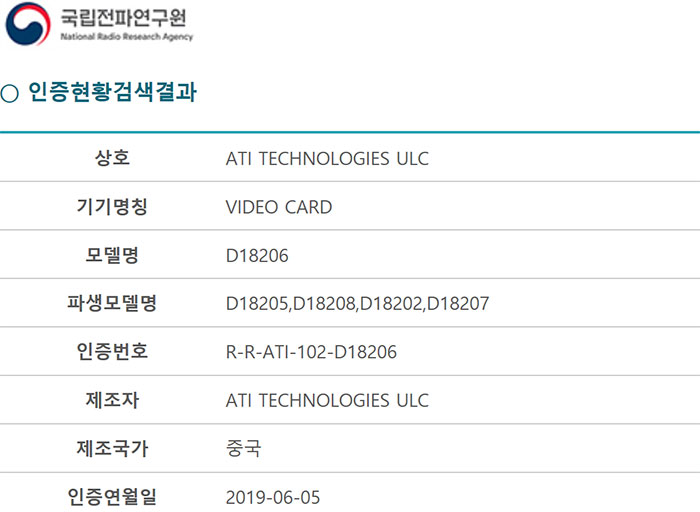 Above you can see that the new graphics cards were certified very recently - this Wednesday 5th June. You will observe that the base model name is D18206, and there are four further derived model names; D18205, D18208, D18202, D18207.
As PCGamesN points out, the above "is not necessarily confirmation that there will be five different Navi variants at launch". However, it is reasonable to assume there won't be just the single Radeon RX 5700 graphics card we have seen announced, either, as it is a 'Series'. AMD traditionally launches a number of cards based upon the same GPU design at the same time.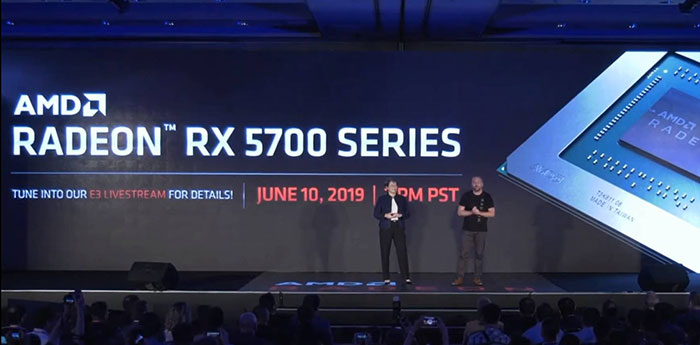 At its Computex keynote, AMD compared a Radeon RX 5700 graphics card beating the Nvidia GeForce RTX 2070 in Strange Brigade performance tests. However, that game is widely known to comparatively favour AMD hardware. At the upcoming Next Horizon Gaming event at E3 let us hope for some more thorough benchmarks - and a precise set of launch dates and MSRPs would be welcome too. Whatever happens at E3, the first Navi-GPU cards for consumers won't start to ship until July.

Hosted by The Game Awards creator Geoff Keighley, AMD's Next Horizon Gaming event will be held at The Novo at L.A. Live on Monday, 10th June, 2019, at 3pm PT.
Meanwhile, Nvidia is expected to make good on its "something super" teaser at E3. It looks like an interesting week ahead…