UL Benchmarks has emailed HEXUS to announce that it has added a new PCI Express feature test to 3DMark. Regulars will be well aware of the significance of this timing - and the benchmarking tool arrives as we are anticipating the release of the first PCIe 4.0 devices such as motherboards, SSDs, and graphics cards. Of course we are talking about the imminent launch of AMD's Zen 2 processors and supporting peripherals.
As part of 3DMark the new PCI Express feature test will naturally focus on graphics performance enhancements delivered by PCIe 4.0. UL reminds us that the new interface can theoretically provide double the bandwidth that PCIe 3.0 was capable of. "With more bandwidth, games can transfer more data, reduce loading times, and support more complex scenes," UL summarises.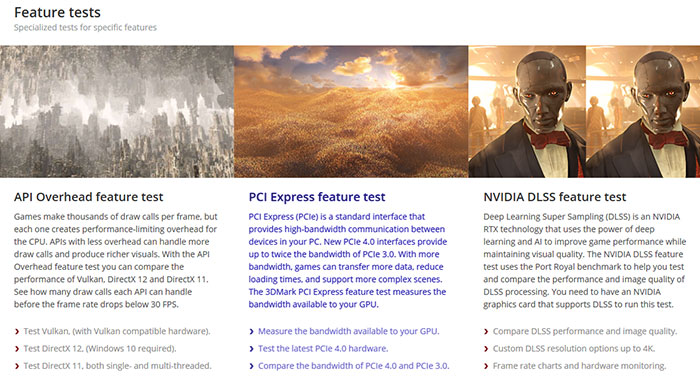 In the PCI Express feature test the application seeks to saturate the PCIe 4.0 interface by uploading a large amount of vertex and texture data to the GPU for each frame. It then measures the average bandwidth achieved during the test and provides the result.
In its email to HEXUS, UL Benchmark admits that the test is based on a synthetic scenario and "in real-world use with today's rendering pipelines, a PC's gaming performance is unlikely to be limited by PCIe bandwidth". Nevertheless it sees value in the 3DMark PCI Express feature test as it offers "an accurate and reliable way to compare bandwidth across PCIe generations and measure the performance of different hardware configurations".
If you are interested in running the test on your current hardware, you will need a DirectX 12 compatible discrete graphics card or the test won't start. UL notes that in multi-GPU systems the test will run on the primary GPU, integrated graphics aren't supported, and external GPUs are not supported at this time.

Last but not least, 3DMark is currently available at 85 per cent off in the Steam Summer Sale. You will be able to snag the Advanced Edition for USD $4.49 via Steam (or UL direct) until 9th July.