VIA Technologies has today unveiled the successor to 2008's VX800 media system processor (MSP) in the form of the new-and-improved VX900.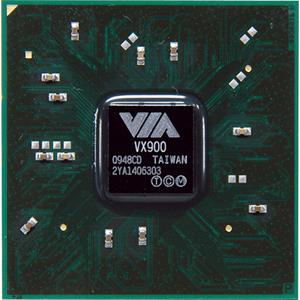 The chip, pictured above, integrates the features of the Northbridge and Southbridge into a single 31mm x 31mm package and when paired with a VIA Nano 3000-series CPU promises "to bring truly stunning video playback to to the latest HD online video services".
Making smooth playback of 1080p video a possibility is an integrated VIA Chrome9 HC3 graphics processor, clocked at 250MHz and equipped with full DirectX 9 support. Using VIA's ChromotionHD 2.0 video engine, the chip provides hardware acceleration for a range of popular codecs - including H.264, MPEG-2, MPEG-4 and WMV - and should deliver "incredibly smooth playback of HD media" without burdening the CPU.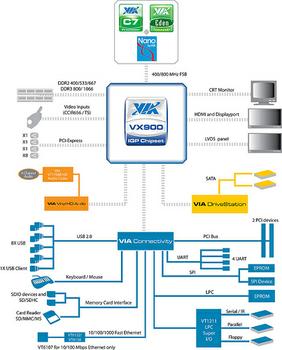 Speaking of CPUs, the VX900 MSP is compatible with a choice of VIA Nano, VIA C7 and VIA Eden processors, and supports DDR3 memory at speeds of up to 1,066MHz.
The chipset as a whole also serves up eight-channel VIA HD audio, an IDE controller, support for two SATA II drives, eight USB ports and Gigabit Ethernet.
Looks as though the Taiwanese manufacturer has a decent alternative to the Intel Atom + Broadcom Crystal HD solution, but will any system integrators take note? If so, expect to see a few netbooks armed with VIA's latest at COMPUTEX in June.
Press release: VIA Takes the Jitters Out of Online HD Video