We know that Intel has been striving to improve the integrated graphics offerings in the upcoming Haswell range of processors. Currently graphics performance is a definite chink in the armour of the Intel range of processor solutions, when compared to AMD. We have observed with interest previous Intel slides showing how the "enhanced graphics" offered by the 4th generation Intel Core processors will perform. These slides have all been pretty vague with regard to performance, proclaiming "Up to 2x perfomance", that kind of thing.
Thanks to a VRZone sourced slide, we now have some real world industry comparisons from Intel. These comparisons could be optimistic or even unrealistic but nevertheless give us some indication of the performance capabilities of the new Haswell integrated graphics parts.
Intel HD Graphics 5200 (GT3e) is on a par with the Nvidia GT640 and AMD Radeon HD6670?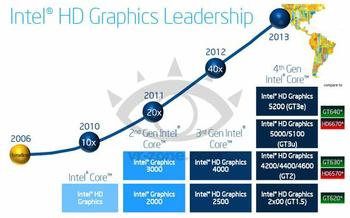 You can see in the above graph that 4th gen Intel graphics come in a range of capabilities and associated part numbers. Also on the far right of the chart you can see a "compare to" column featuring Nvidia and AMD graphics solutions. At the top end of the chart the Intel HD Graphics 5200 (GT3e) is listed as being on a par with the Nvidia GT640 and AMD Radeon HD6670.
Several mobile and desktop Haswell CPUs will be equipped with the top performing GT3e chip. On the desktop side of things CPUs packing the GT3e will be suffixed with an "R". Tom's Hardware informs us these will be the Core i7-4770R, Core i5-4670R and Core i5-4570R. These are all quad-core processors, with a TDP of 65W. Ultrabooks will also be equipped with GT3e graphics in some configurations.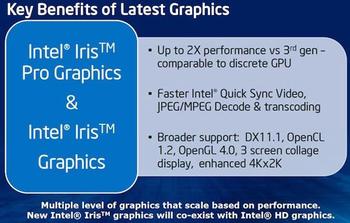 Iris Graphics
The GT3e will be the top performer of what Intel has branded "Iris Graphics". Yesterday evening in the US Intel announced "Iris Graphics" and also made available a few benchmark slides comparing its performance with previous Intel IGPs.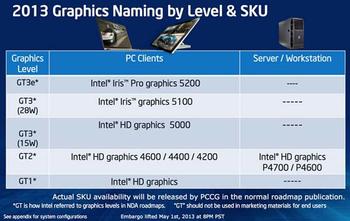 "With up to a 2X 3D performance improvement over today's fastest mobile Intel HD Graphics solutions, Intel Iris graphics brings next-generation mobile computing devices to life with a built-in, eye-popping visual experience – no extra graphics card required," read an Intel statement.
Below you can see the vague but interesting 3DMark performance comparisons of both Ultrabook and Desktop versions of these processors. You can also see our benchmarks of Intel's previous top performing HD 4000 IGP, as part of the Core i7-3770K here.