AMD continues to drip feed information about its upcoming Radeon R9 Fury range of graphics products. A few hours ago in Beijing, the chipmaker held a conference with a bit more depth to the details than in its own E3 event and the subsequent E3 PC Gaming show. At China's 'New Era of PC Gaming' presentation the attendees also saw some performance benchmarks. There is a live blog of the event at PCOnline and further slides published on EXPreview (both in Chinese).

Below you will see AMD's official benchmark slide which illustrates the smooth gameplay on offer from an AMD Radeon R9 Fury X graphics card. The game under scrutiny was Far Cry 4, played in ultra settings in 4K. AMD claims this new graphics card can achieve smooth gameplay performance with an average 54fps, never dropping below 43fps.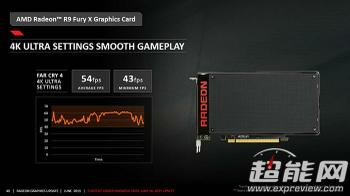 At the time of writing HEXUS doesn't use Far Cry 4 in benchmarking but AnandTech has used it for a few months for its comparative benchmarks. So included for reference below is a recent Far Cry 4 ultra quality 4K benchmark chart – taken from Anand's Titan X review. This gives us an interesting indication of the 4K performance of the Fury X. Overall this is probably more helpful than the various leaked Futuremark benchmark results doing the rounds, for example.
I've embedded some more of the nice and clear AMD slides from the Beijing event, via EXPreview, below.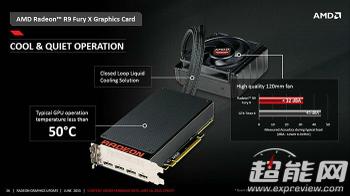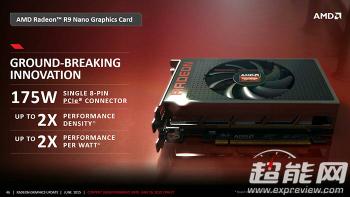 AMD Fury range doesn't support HDMI 2.0?
An interesting nugget of information about HDMI support in the upcoming Radeon R9 Fury range of products was dropped by AMDMatt, an AMD rep, on the OCUK forums yesterday. In reply to a question about if Fury graphics cards support for HDMI 2.0, AMDMatt made it pretty clear:
Q: Does the AMD Radeon R9 Fury X GPU have HDMI 2.0?
A: No. AMD recommends and uses DisplayPort 1.2a for 4K60 content.


The HDMI 1.4a port on the upcoming R9 Fury products only supports 4K output at 30Hz. Thus if you are thinking about using such a graphics card in a living room setup, with a UHD TV via HDMI, you will be limiting your frame rate possibilities to 30Hz. This might be a particularly important factor for potential users of the R9 Nano.