Samsung CJ791 curved QLED monitor with Thunderbolt 3
Ahead of the CES 2018, Samsung has unveiled an attractive new computer monitor with the claim to fame of being "the first curved monitor to feature Intel's Thunderbolt 3 connectivity". The new Samsung CJ791 is a 34-inch curved screen model, sporting the Intel 40Gbps USB Type-C interface which can be used for both video signal and power delivery.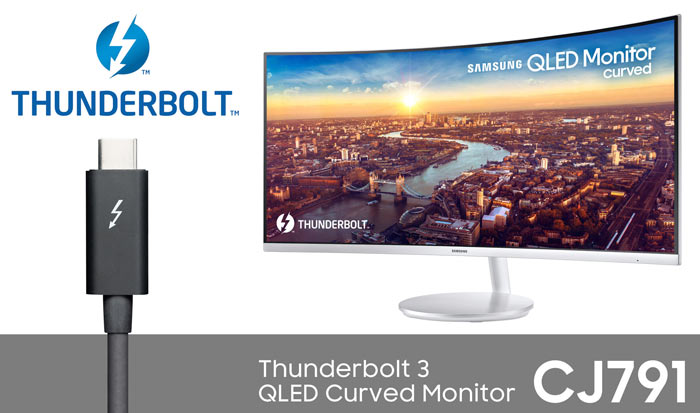 Connector cable not to scale
Another point of interest with the Samsung CJ791 is its display panel. Samsung leverages a 34-inch 1500R curved 21:9 aspect ratio (3440 x 1440 pixels) screen using QLED technology. The panel can reproduce a 125 per cent sRGB spectrum and has a 178-degree viewing angle. Samsung promises that its screen produces "deeper blacks, brighter whites and pristine shades," that will both captivate and engage users.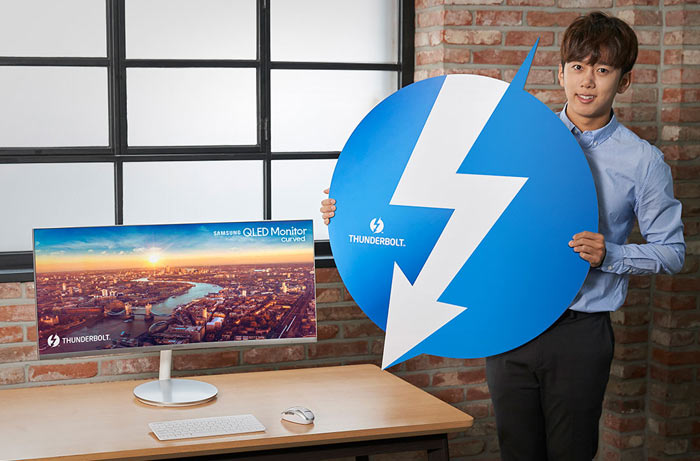 The new Samsung CJ791 is a good choice for both work and play, suggests the South Korean electronics giant. In the workplace the expansive size and sharp resolution allows professionals to view large files, spreadsheets and data tables in a more readable format, without scrolling, and the minimal bezels are good for multi-monitor setups. For gaming, Samsung includes its Game Mode OSD settings which include a dynamic gamma setting, and cites a 4ms response time. However, we didn't get any details about monitor refresh rates or adaptive sync technologies ahead of the CES (9th to 12th January).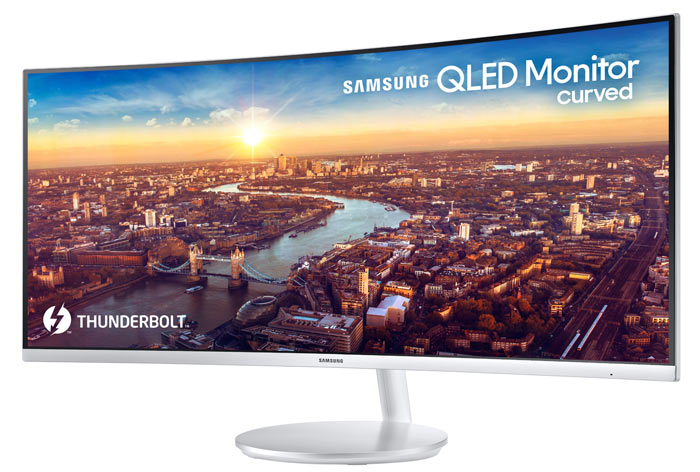 Samsung C-lab projects
It is always interesting to see Samsung's C-Lab products. These are experimental projects developed under a special creative program at Samsung which launched five years ago. In short, Samsung has said it will showcase the following projects at the upcoming CES (links provided to YouTube videos):
S-Ray (Sound Ray): a portable directional speaker which can direct sound to your ears, providing an-earphone like experience without wearing an in-ear or over-ear device.
GoBreath: is a device which helps patients recover from breathing difficulty due to lung damage. It can be cloud connected for medical monitoring.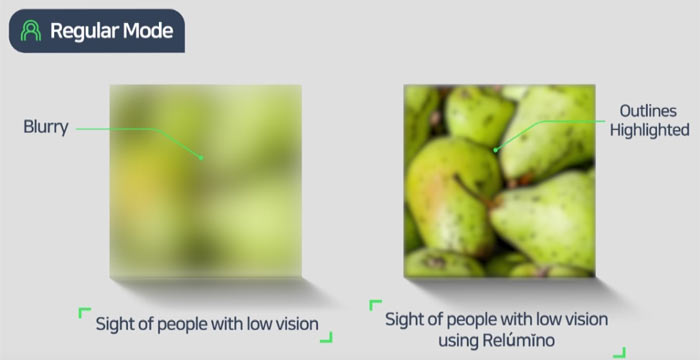 Relúmĭno: smart visual aid glasses designed to help people with vision challenges see images clearer when they are reading a book or viewing an object, for example. For reading a book users might prefer the colour invert mode and for viewing objects an enhanced outline mode helps with vision. The glasses work using the processing power of your smartphone to reduce weight and complexity.