The Video Electronics Standards Association (VESA) has made important changes to its open standard DisplayHDR specification, moving it from version 1.0 to 1.1. The updated 1.1 spec has tighter performance requirements, said to address recent advances in display technology. Another change has been the introduction of the DisplayHDR 1400 level, which requires a dynamic contrast ratio that is 3.5X greater than the DisplayHDR 1000 level.

Earlier today HEXUS reported upon the first display certified for the DisplayHDR 1400 logo, the Asus ProArt Display PA32UCG. According to Asus this monitor exceeds the spec comfortably as it describes it as an 'HDR 1600' monitor in its publicity material.
So what does a monitor have to do to get DisplayHDR 1400 certified? It needs to offer a 40 percent increase in luminance and a 2.5X reduction in black level compared to the DisplayHDR 1000 tier – "increasing the contrast range by 350 per cent," says VESA. Furthermore, colour gamut requirements have been increased for the first time from 90 to 95 per cent of DCI-P3-D65. Last but not least DisplayHDR 1400 certified monitors need to be able to put out 900nits of brightness for full-screen long-duration (30 minute) testing to demonstrate solid, reliable luminance. For reference the PA32UCG bests this figure with peak brightness of 1600nits and a sustained peak figure of 1000nits, "matching the best of today's reference monitors at any cost".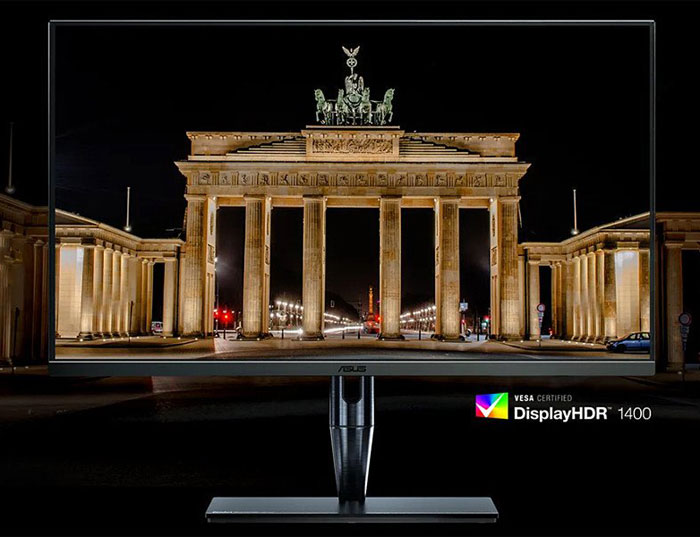 VESA's DisplayHDR spec v1.1 has a number of key improvements, as bullet-pointed below:
Active dimming – DisplayHDR now mandates active dimming performance levels, a feature that when adopted in displays can reduce power consumption and yield significantly darker black levels
DisplayID accuracy – ensures that accurate luminance and colour gamut data is populated in the DisplayID or legacy Extended Display Identification Data (EDID), which enables the GPU to optimize the video signal for that display to ensure the highest display performance
Dual corner box test – the black-level test has been updated with larger corner box structures to allow for accurate colorimeter measurement of both black and white levels, resulting in improved dynamic contrast ratio testing
New colour gamut specifications – DisplayHDR now includes a 10 percent colour patch test in addition to the 100 percent full screen colour test, with both tests now using the display's maximum luminance and RGB primary colour values from the DisplayID/EDID; this revised test method more accurately determines the colour gamut that will render on the display when running Windows
Combined colour luminance – DisplayHDR has added a mechanism to validate full colour volume at the full logo level luminance
New Delta-ITP test – added to test that the luminance level on the display is correctly rendered, helping to ensure the faithful reproduction of the original content creator's intent (luminance, and D65 white balance)
On-screen display (OSD) mode indication – any DisplayHDR-certified monitor with an on-screen menu function must now clearly indicate which modes support DisplayHDR, making it easier for users to optimize their display settings
DisplayPort certification specification – any DisplayHDR-certified monitor that has a DisplayPort interface must also undergo DisplayPort certification, ensuring that the display performs optimally with VESA DisplayPort-certified cables and other peripherals
VESA says it will continue to allow products to be certified to DisplayHDR 1.0 spec until May 2020, to allow manufacturers to wrap up product lines already in development. However, companies can begin certifying their display products under the new DisplayHDR 1.1 spec today.
See a full table of the various DisplayHDR 1.1 performance tiers here – which includes the True Black specs for comparison.