Tt eSPORTS has launched the Poseidon Z Forged mechanical gaming keyboard. This might not be the first time you've seen this particular keyboard as it was on show at Computex a few months back. However Tt eSPORTS now says that those interested in the keyboard will be able to purchase it from March.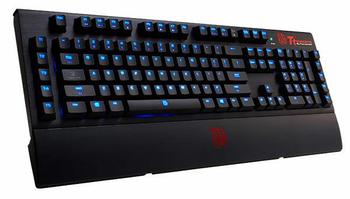 The Poseidon Z Forged owns its name to the brushed black aluminium faceplate construction. Built for gamers it features easy reach ports, media keys and macro keys. The input device doesn't use the famous Cherry mechanical switches but its own Tt eSPORTS Certified Mechanical switches, rated for 50 million keystrokes. Buyers can choose between 'Blue' and 'Brown' switch types which should offer similar qualities to the Cherry models of those colours.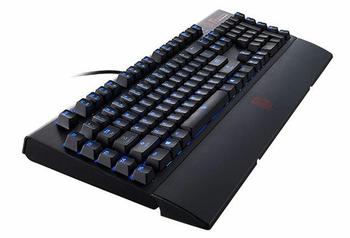 Other important features of this gaming keyboard include the following:
Adjustable backlighting – users can adjust the blue lighting brightness and a pause-break effect. Tt eSPORTS includes various pre-configured lighting zone combinations.
Onboard DAC amplifier with audio I/O. Depending upon your PC's built-in sound you might want to utilise this keyboard's DAC Audio Microcontroller Unit (MCU) containing digital programmable gain amplifier.
10 macro keys with 5 profiles for 50 macro program options - or double that number in Game Mode. 64KB memory
Advanced Instant Shift System (ISS) – to quickly and easily switch macro groups users can simply use the shift, ctrl, alt modifier keys.
Tt eSPORTS Poseidon Z Forged footage starts from 4 minutes in
The Tt eSPORTS Poseidon Z Forged includes a USB hub with 2 ports, a 1.8m detachable with gold plated connectors and a detachable wrist rest.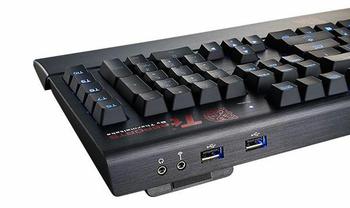 As mentioned in the intro this keyboard will become available next month. It will be priced around the RRP of US$139.99 in either Blue or Brown switched variants. Buyers receive a five year warranty.