Western Digital has launched what it claims to be the world's fastest 256GB microSD card. The SanDisk Extreme branded memory card is said to be perfect for 4K recording smartphones, high performance drone, and action camera users. This sizable memory card could be useful for recording as much as "14 hours of 4K UHD video" and, thanks to the record breaking transfer speeds, can save users valuable time when it comes to transferring the files for editing or archiving.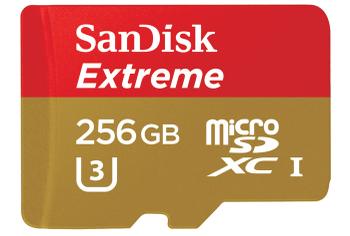 According to SanDisk's own tests, the 256GB SanDisk Extreme microSDXC UHS-I card delivers unmatched transfer speeds of up to 100MB/s, allowing users to save time transferring large files, as well as write speeds of up to 90MB/s for rapid capture of photos and/or high resolution videos. Remember the transfer speeds of data between the memory card and your computer will be impacted by your card reader and interface.
A slightly slower 256GB card was simultanelously launched by Western Digital, called the SanDisk Ultra microSDXC UHS-I card, Premium Edition. This card peaks at 95MB/s speeds which SanDisk equates to a real-world transfer speed of 1,200 photos per minute.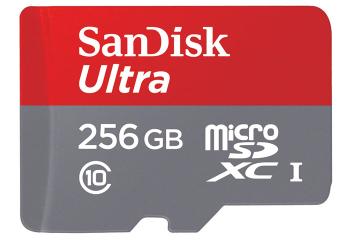 If you are interested in either of the new 256GB microSD memory cards you will be happy to know that both are waterproof, temperature-proof, shock proof, and X-ray proof. For storage management and backup on mobiles and tablets users can download the SanDisk Memory Zone app for Android via Google Play.
The 256GB SanDisk Extreme microSDXC UHS-I card will be available worldwide in Q4 2016 with a U.S. MSRP of $199.99. The 256GB SanDisk Ultra microSDXC ­­UHS-I card, Premium Edition, will be available worldwide in August 2016 with a U.S. MSRP of $149.99.