Ecosystem Integration
As a late arrival to the monitor scene, Corsair appreciates the need to differentiate through more than just panel quality alone. To that end the Xeneon 32QHD165 has a few nice touches that pander to the target audience's requirements.
Fans of Elgato gear will be pleased to find that the stand is outfitted with a standard 1/4in connector at the top of the post. Those already heavily invested in the ecosystem can simply remove the screw and mount, say, a webcam or microphone above the panel, while those getting started can purchase an optional Xeneon Camera Adapter & Ball Mount Kit to support a choice of Elgato Flex Arms.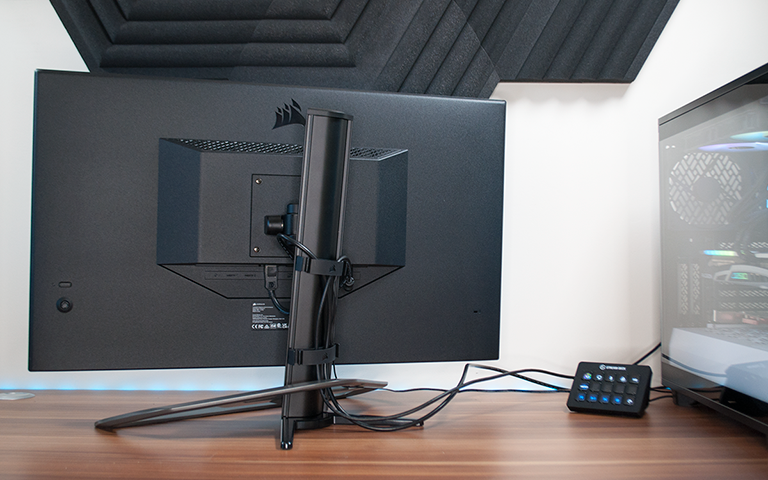 Tidy cabling is something that streamers may look for, and Corsair's answer to that is dubbed 'RapidRoute cable management.' Comprised of adjustable plastic cable clips that slide up and down the post, the system is a step up from basic cable routing and does a decent enough job of keeping excess clutter out of view. Just the two clips are attached by default, but a second larger set is available in the box if need be. Adding or removing clips is simply a case of sliding them all the way down to the bottom.
In terms of connectivity, all of the available ports are arranged in a single row and include headphone out, a pair of HDMI 2.0, DisplayPort 1.4, USB-C with DisplayPort and 15W power delivery, USB 3.1 Gen 1 Type-C, two USB 3.1 Gen 1 Type-A and a connector for the external 90W power supply. We'd have gladly accepted a slightly thicker display in favour of an integrated PSU, yet the supplied 90W unit is petite enough and easily serviceable.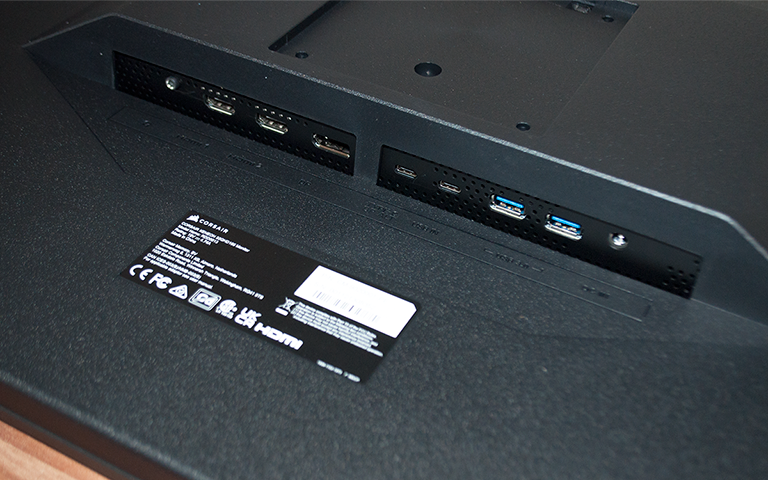 Corsair has opted against onboard speakers - headphone out is merely audio passthrough - but there is good news in the warranty department, with the monitor's three-year cover including a dead-pixel policy for the duration. In keeping with most competitors, users will be eligible for a free exchange in the event of a single 'stuck' bright pixel or six or more dark pixels.
Lastly, gaming monitors now tend to come with a software companion, and Corsair is keen to leverage its existing utilities in a meaningful way. While there's nothing wrong with the monitor's OSD - presentation is tidy and joystick control works well - it is even easier to adjust settings on the fly from within Windows using the same iCue app that encompasses all other recent Corsair hardware.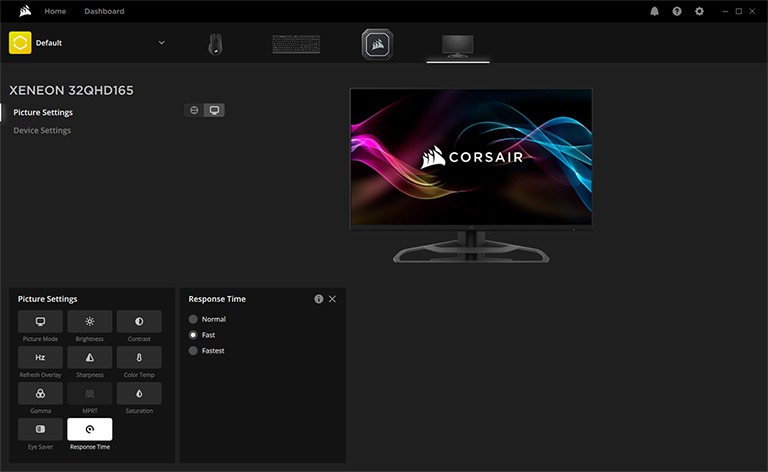 Frequently-used settings are displayed in a clear, easy-to-locate manner, firmware updates are well managed, and if you venture into monitor settings there's an option to disable the front LED. All the basics are covered, yet there is scope for Corsair to do more. While iCue does a fine job of replicating OSD functions, we'd like to see additional functions for window management and gaming enhancements such as customisable crosshairs or on-screen timers.
We suspect iCue functionality will expand over time, yet even at this early stage the Xeneon 32QHD165 has the added benefit of Elgato Stream Deck integration. Being able to switch picture modes or response times at the press of a button is a helpful trick, though once again the available options at the time or writing aren't exhaustive; a shortcut for brightness adjustment isn't yet available, and we're told Input Select is still to be added via an upcoming update.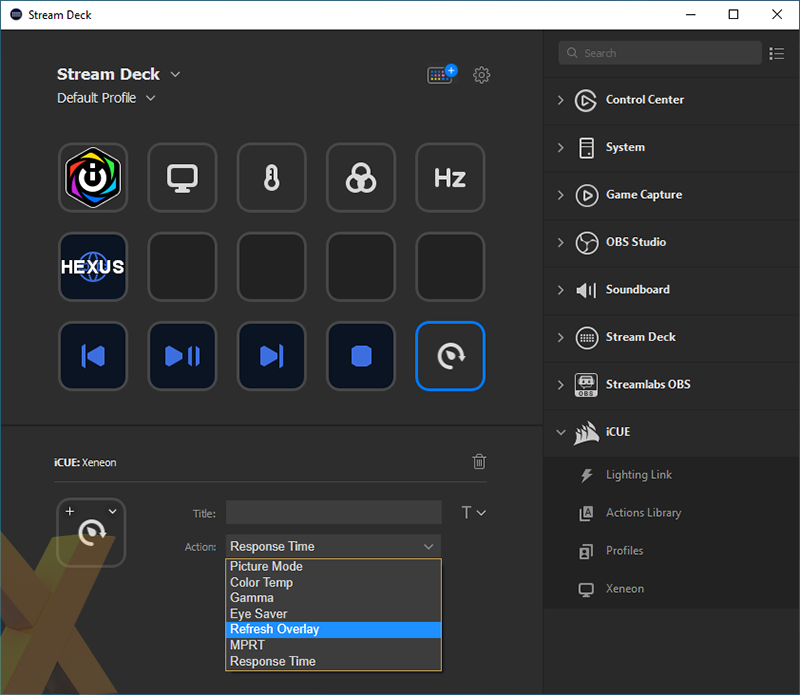 All of Corsair's value adds work reasonably well, yet while Elgato multi-mount support, Stream Deck integration and a sleek aluminium stand all add to the monitor's appeal, is it enough to justify a £700 price point? That's debatable, and gamers with little interest in streaming can achieve similar 32in QHD credentials for far less; Gigabyte's M32Q, to cite one example, offers stern competition at just £480.
Plenty to mull over but let's run the benchmarks before coming to a conclusion.