Software and Summary
No Corsair mouse is complete without tight integration with the firm's iCue software utility. It's worth pointing out that the mouse can be used as a plug-and-play solution - it'll work just fine without any additional software - but you'll want to download the app in order to customise settings and make use of the latest firmware. At the time of writing, that's v1.6.25 for the mouse and v1.3.9 for the USB dongle.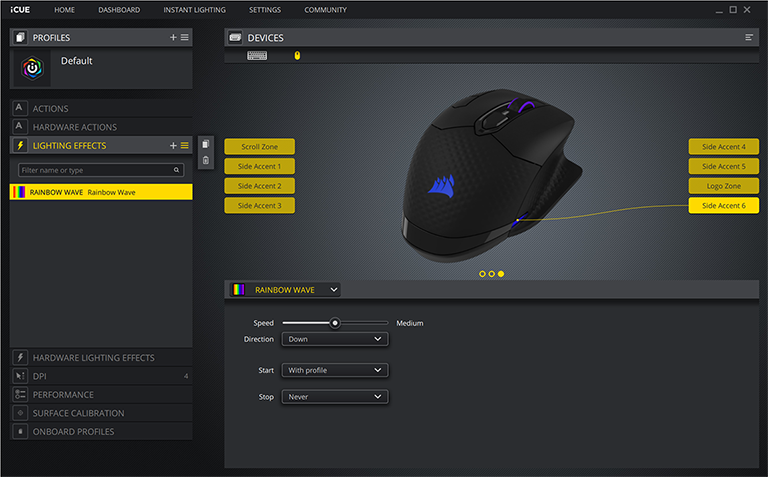 Lighting is easily adapted to suit your taste using static colours or preset patterns (or switched off if you prefer), and all eight buttons are easily remapped or assigned a choice of actions. These include macros, text strings, media shortcuts, application shortcuts and timers, and each takes little time to personalise.
DPI presets can be configured on both X and Y axis, and any of the eight available buttons can be remapped as a low-DPI sniper shortcut. iCue will also let you adjust the sleep-mode interval, which by default is set to 15 minutes of inactivity, and there's now an option to place a battery gauge in the taskbar, making it easy to keep tabs on how much juice is remaining.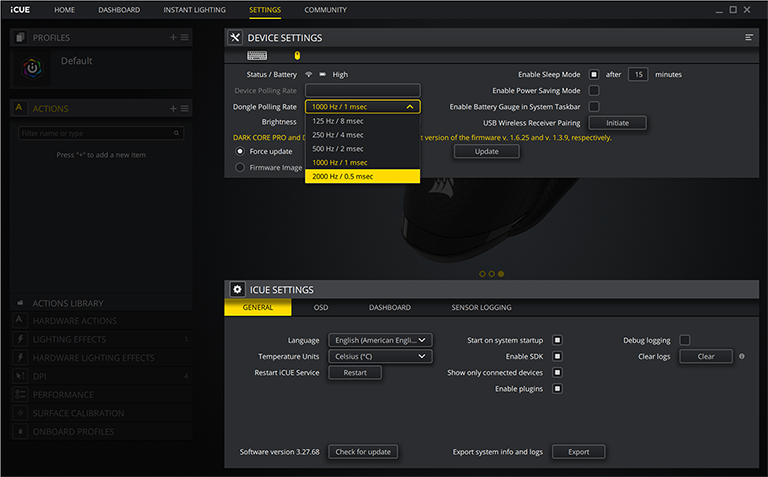 Three onboard profiles allow users to take their settings with them between PCs, though do be aware the advertised hyper-polling technology isn't enabled by default. To use the feature, head over to the settings tab and select 2,000Hz from the Dongle Polling Rate drop-down menu.
Summary
...a precise optical sensor, more lighting zones, and a USB-C charging port.

Corsair has improved its Dark Core gaming mouse in a number of meaningful ways. The new RGB Pro model touts greater battery life, streamlined buttons that are easier to locate, a precise optical sensor, more lighting zones, and a USB-C charging port.

Each of the aforementioned upgrades is welcomed, making this the best interpretation of the Dark Core series to date, and users who appreciate the familiar form factor will immediately feel at home on a mouse that ticks most of the relevant boxes.

Performance is excellent, yet comfort can be just as important, if not more so, and for my tastes, Dark Core RGB Pro is a little on the heavy side, the distinctly notched scroll wheel could be smoother, and the optional pinky rest isn't going to suit everyone.

Bottom line: Corsair's latest has the technical prowess to appease most gamers, but its weight and profile may divide users.

The Good

The Bad

Choice of wired, 2.4GHz or Bluetooth
Improved battery life
USB-C charging port
Precise optical sensor
Eight programmable buttons

Optional pinky rest is hit or miss
133g a little on the heavy side
Scroll wheel could be smoother
Pricing starts at £90





HEXUS.where2buy

The Corsair Dark Core RGB Pro will be available to purchase from Scan Computers.

HEXUS.right2reply

At HEXUS, we invite the companies whose products we test to comment on our articles. If any company representatives for the products reviewed choose to respond, we'll publish their commentary here verbatim.