AMD has published its latest set of financial results and looking at the headline numbers and achievements it nearly all looks positive. However, the firm's revenue figures were slightly lower than analysts and investors had expected, with weaker GPU sales observed, and forecasts for Q4 are quite conservative. Thus the AMD share price fell in afterhours trading, rather dramatically, and at the time of writing it is 22 per cent down.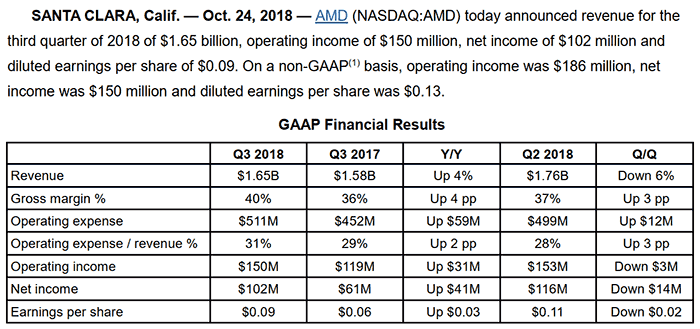 Revenue for Q3 2018 was $1.65B, up four per cent year on year, and earnings per share was $0.09. Expectations had been that AMD would bring in about $1.7B and an EPS of $0.12. With the publication of the results, CEO Dr Lisa Su delivered an overall upbeat statement as follows:
"We delivered our fifth straight quarter of year-over-year revenue and net income growth driven largely by the accelerated adoption of our Ryzen, EPYC and datacenter graphics products. Client and server processor sales increased significantly although graphics channel sales were lower in the quarter. Looking forward, we believe we are well positioned for further market share gains as we continue making significant progress towards our long-term financial targets."
Considering the positives first, AMD's gross margin was 40 per cent, up 4 per cent year-on-year thanks largely to computers processors in the Ryzen (desktop and mobile) and Epyc processor lines. For example there are 54 new laptops are debuting with AMD chips, according to the CEO. Processor ASPs were higher year-on-year and quarter-over-quarter too.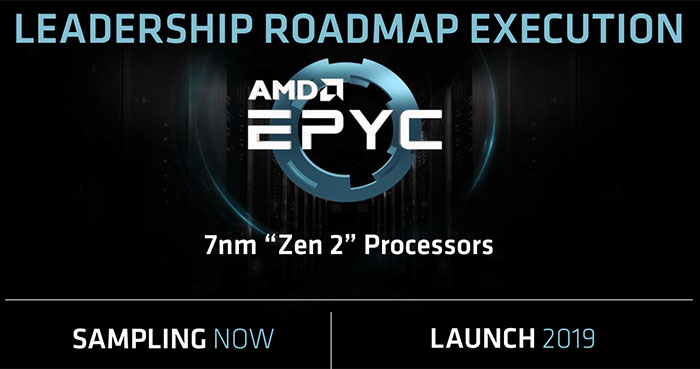 Offsetting the good computer processor news was the reveal that AMD saw cryptocurrency mining related GPU sales all but disappear - down from contributing a high single-digit percentage of revenue in previous quarters. High channel inventory and lowering ASPs also impacted GPU revenue for AMD.
Not particularly good or bad was the Enterprise, Embedded and Semi-Custom segment news. Revenue was $715 million, down 5 percent year-over-year and up 7 percent quarter-over-quarter. AMD said there was lower semi-custom product and IP-related revenue, partially offset by higher server sales. Current gen consoles, which account for much of the Semi-Custom segment sales, are getting rather long in the tooth.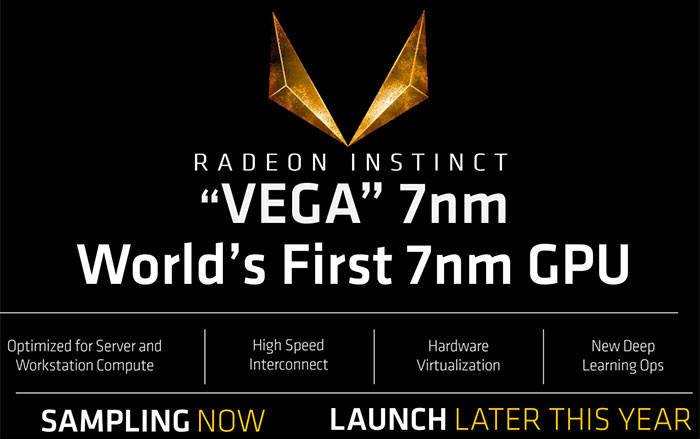 Conference call hopes
In a post-results conference call Lisa Su said that she sees particular growth potential in Epyc chips, which could achieve mid-single digit server market share by the end of 2018, and move into double digits in the mid to longer term. It was highlighted that 50 per cent of AMD revenue is coming from new products and 7nm GPUs will debut before the year is out, with 7nm CPUs shipping in 2019.