We're not sure if digital TV on a notebook will ever truly take off, but there's no longer reason to blame over-sized USB tuners thanks to Elgato's latest - the EyeTV DTT Deluxe.
The minuscule USB stick, pictured below alongside a Macbook Pro, claims to be the smallest, full-featured DVB-T tuner currently available.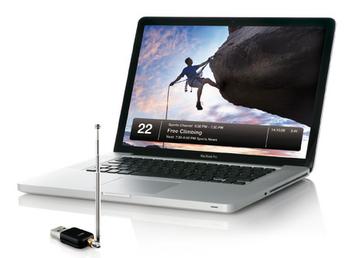 Despite its lack of size, Elgato reckons it delivers "powerful Freeview reception, cutting-edge technology, clean design, and extreme portability in one diminutive device".
We can't yet comment on the quality of Freeview reception, but it's diminutive alright. Elgato bundles the unit with its EyeTV 3 software for Mac OS X, and there are already drivers available for Windows 7, too.
The EyeTV DTT Deluxe ships with a miniature telescopic aerial that can be attached as shown above, but those hoping for something stronger can resort to the included portable rod antenna, or an adapter that allows a standard aerial to be hooked up.
We're told the unit is shipping today, and Elgato suggests a retail price of £79.95 here in the UK.