Elgato has introduced a network-attached TV tuner that might spell trouble for the internal PC TV tuners we've become accustomed to.
The device, dubbed the EyeTV Netstream DTT, takes a standard digital TV signal (DVB-T) and beams it to multiple devices on a home network, allowing networked PCs or Macs to watch and record live Freeview broadcasts.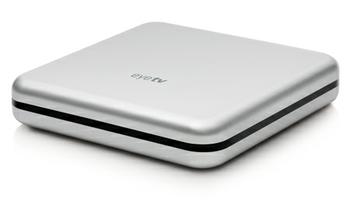 Sounds a lot like a simplified Slingbox, and it works in a similar manner - plug your coax antenna into the back of the device, and then connect it to your router/switch via the EyeTV Netstream DTT's 100Mb Ethernet port and watch it stream live TV around your home. Should your network offer Wi-Fi functionality, it'll beam straight to your notebook, too.

Featuring dual DVB-T tuners, the EyeTV Netstream DTT will allow up to two devices to watch and record TV broadcasts at any one time, and the unit offers support for Mac computers via Elgato's Mac TV software and ships with TerraTec Home Cinema for Windows users, in addition to supporting Windows 7 Media Center.
Measuring just 23mm x 119mm x 119mm, it's a compact device that also overcomes the shortage of aerial sockets around the home. Plug it into your main antenna outlet, and provided your router is nearby, it needn't be near any networked computers.
Sounds like a very useful little gadget, but there's a slight catch - the EyeTV Netstream DTT won't support DVB-T2-based Freeview HD broadcasts. Considering the £229.95 price tag, that might just put off most UK buyers. There's bound to be a DVB-T2 model in the works though, right?