More Spiderman: Friend or Foe info
The co-op mode lets friends join the game at any time and take control of Spider-Man's sidekick. Playing in two-player co-op mode allows gamers to discover new ways to overcome obstacles and enemies. As players progress through the game, battle arenas are unlocked where one-on-one brawling with any Super Hero or Villain can take place at any time.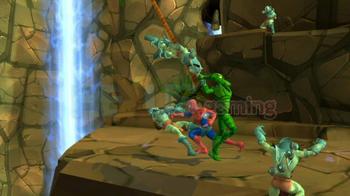 Click for larger image



You can also replay the game or experience Versus mode with a different sidekick and eventually play as Black-Suited Spider-Man (Spidey's darker, more aggressive persona) featuring unique powers and abilities. Throughout the different worlds, a host of secret areas containing special tokens can be discovered in the first play through, which players can go back and explore at any time. Gamers can also uncover a variety of hidden items scattered throughout the game which unlock collectables, powers and mini-games.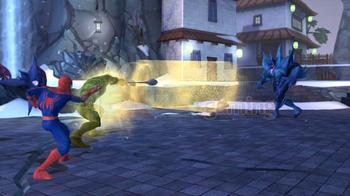 Click for larger image



Spider-Man: Friend or Foe is set for an Autumn 2007 release on Xbox 360, Wii, PS2, PSP, DS and PC.