The worse FIFA game ever
Between 2004 -2006, FIFA was absolutely boring. The excitement that I had felt each time a FIFA game was released had totally vanished and possibly the worst game in the FIFA series, 'FIFA Road To The World Cup' demonstrated that EA had simply ran out of ideas.

The presentation was still good, like it always has been - and there was solid online implementation - but on the pitch, the simplicity of the game and its accessibility was no match for the depth and the skill that was needed to play Pro Evolution.

It was after 2006 though, when things really began to change.

FIFA 07 was the beginning of the end of Pro Evolution soccer for me. EA had finally got its finger out and decided that it needed to change. Its gameplay had become stale.

In FIFA 2007, it moved away from its traditional animation-based game engine and enabled raw physics and data to drive the action. Not only did it look fabulous, but the fundamental controls were far better, the AI was sharp and on the pitch it started to feel like you were part of a real game of football.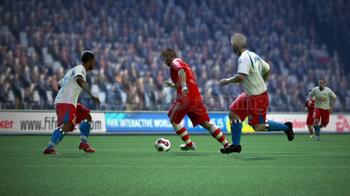 Click for larger image



Konami, on the otherhand, just churned out the same game as the previous year, with no more features. It was still a great game of football and I spent the following year playing Pro Evolution offline in single player mode and then crossing over to FIFA to play online where it was more stable and easier to get into a game. FIFA 07 also had the draw of the interactive leagues, a new online mode that enabled gamers to pit themselves against supporters of other clubs and play games according to the real-world schedule. EA was challenging itself and trying things that had never been done before, and it was working, the tide was beginning to turn.

It was clear at this stage that things were changing dramatically for the FIFA series and EA weren't about to slow down just yet...

Continued overleaf