Laid down the gauntlet
FIFA 08 was where I completed the transition from being a Pro Evo player to spending my time on FIFA and it was here where the series truly re-gained its crown. Via an initiative, run through EA's community website 'FIFPlay', the developer called for suggestions to improve its game and it said that some of these suggestions were acted upon to create the superb FIFA 08.

I still bought Pro Evolution Soccer 2008, but by this time it was looking tired and in need of a huge makeover both on and off the pitch, with a laggy online component that was quite simply a waste of time.

On the other side of the fence however, EA had finally nailed it with unblemished online stability in FIFA 08 and some great game modes, such as Be A Pro. On the pitch there was improved ball control, smooth animation and a new 35-point decision engine which enabled players to process multiple decisions and reactions in real-time.

In FIFA 07 you could run rings around players with the likes of Ronaldinho, but now that the AI had improved you needed much more skill to score and take on players. FIFA 08 became more about tactics than it had ever done so before. With slick presentation, great features, improvement on the pitch and a cracking online mode, FIFA 08 became the best soccer title to come out of the EA Sport's studio.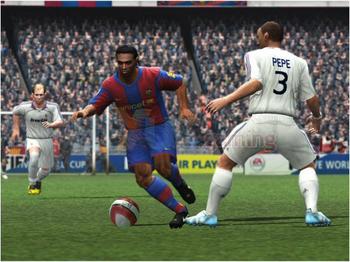 Click for larger image
Continued overleaf