Late last week Microsoft announced a new UK, London based studio. The new studio will be focusing on entertainment titles for Windows 8 touch based devices like the Microsoft Surface. Former production director or Rare, Lee Schuneman will head up the operation. The new studio is, as yet, unnamed and will join the UK-based Microsoft stable of Rare, Lionhead and Soho Productions.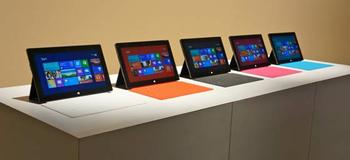 Initially workers at the new studio will be based at Microsoft Studios' Great Pulteney Street. Microsoft is currently recruiting for members of staff and expects the new studio to commence operations in November. The company is still on the lookout for a creative director, incubation director, studio release manager and product manager.
Mr Schuneman said he was "hugely excited by this new venture," and he stated that "Adding a fourth UK-based studio to the incredible roster of talent already in place not only increases our in-region studio presence, but will allow Microsoft Studios to explore the many creative and business opportunities that developing new games and entertainment experiences on Windows 8 tablet devices and platforms will afford." Schuneman's previous work includes Xbox 360 titles such as Kinect Sports, Viva Pinata and Fable: The Journey.
Innovative new software titles for tablets such as Microsoft's own Surface will play an incredibly important role in the battle between the OS platforms. According to Eurogamer, Microsoft says that "the notion of 'Entertainment as a Service' was sufficiently different to warrant setting up its own studio rather than attempting it with its current outfits". So the company will be bolstering the amount and quality of software available in the Windows Store and Windows Phone Store. Populating the new software stores with quality offerings is a large task that definitely needs to be done for the Windows 8 tablet (and phone) market to take off.