Cooling specialist Cryorig, which also sells a singular PC case design, has released a new heat sink and fan cooler aimed at Small Form Factor PC builds. The new product is called the Cryorig C7 Cu, where the 'Cu' suffix is taken from the periodic table indicating its "extravagant use of copper for the whole heatsink body".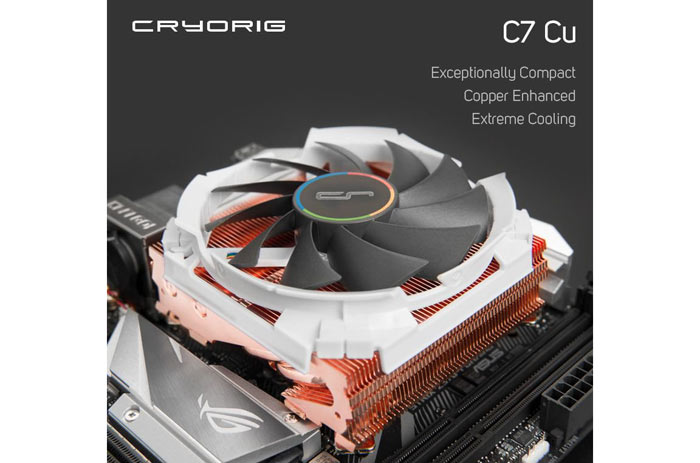 The key claim of Cryorig, and the justification for going 'full copper' rather than mixing copper and aluminium components, is that thermal improvements of up of 15 per cent can be attained (compared to the original C7). This is especially important, and can help keep component sizes down, in ultra compact SFF/ITX builds where space is limited, reckons Cryorig.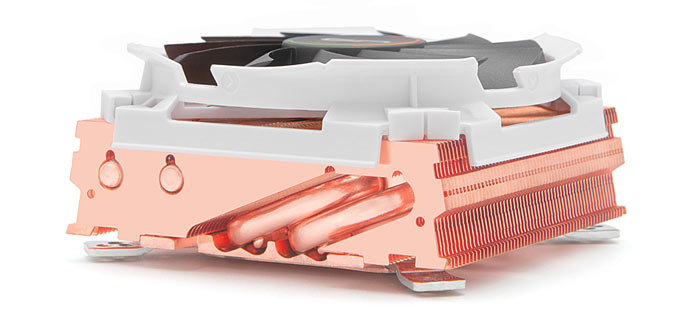 The Cryorig C7 Cu is built on the same architecture as the C7, as the name implies. This means that purchasers can still benefit from the same attractive qualities of the design, such as; zero interference (with other motherboard components) on either AMD or Intel boards, an included installation tool, and a pre-installed 92mm PWM fan with integrated anti-vibration pads.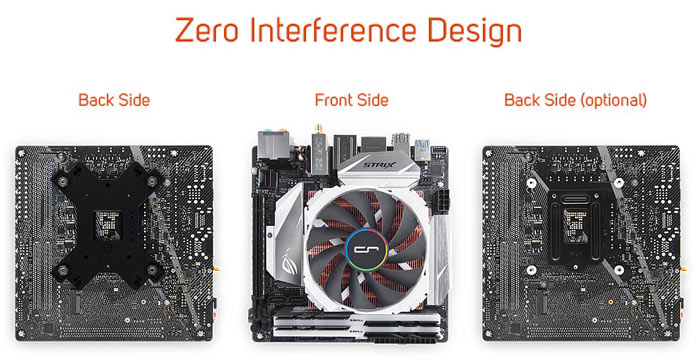 In further technical detail, Cryorig describes its 92mm fan as featuring its proprietary Quad Air Intake system, where additional intakes are placed at the four corners of the fan housing. Thus air is pulled from the sides of the unit, not just above. Such refinements are particularly fitting for SFF/ITX systems, says Cryorig.
If you live in Asia you should be able to get your hands on the Cryorig C7 Cu, or at least very soon. Those of us living in Europe or the USA will have to wait until late May. The product MSRP is €49 (including tax) / $49 (not including tax).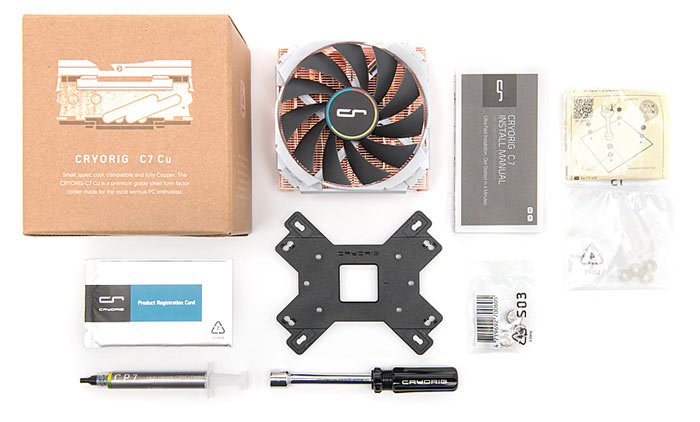 Heatsink Specification
Dimension ( with fan ): L97 mm x W97 mm x H47 mm
Weight ( with fan ): 675g
Weight ( without fan ): 613 g
Heat pipes: 6mm heatpipe x 4 units
Fin: T = 0.4 mm ; Gap = 1.2 mm
Fin Pcs: 57 pcs
Full Copper Base and Fins
RAM Height Limit: Limitless
TDP: 115 W
Fan Specification
Dimension L92 mm x W92 mm x H15 mm
Weight 62 g
Rated Speed 600 ~ 2500 RPM ±10 %
Noise Level 30 dBA
Air Flow 40.5 CFM
Air Pressure 2.8 mmH2O
Ampere 0.2 A