Cascade Lake AP
Last year Intel criticised AMD for basically gluing together dies to formulate its many-multi-core EPYC processors. Now the firm is nibbling a corner of humble pie with its Cascade Lake Advanced Performance CPUs, announced a little ahead of the Supercomputing 2018 (SC18) conference. Cascade Lake AP processors pack up to 48 cores per CPU (consisting of a multi-chip package of two 24-core processors) and provide 12 DDR4 memory channels per socket. Intel uses Ultra Path Interconnect (UPI) to connect the dies in a single package.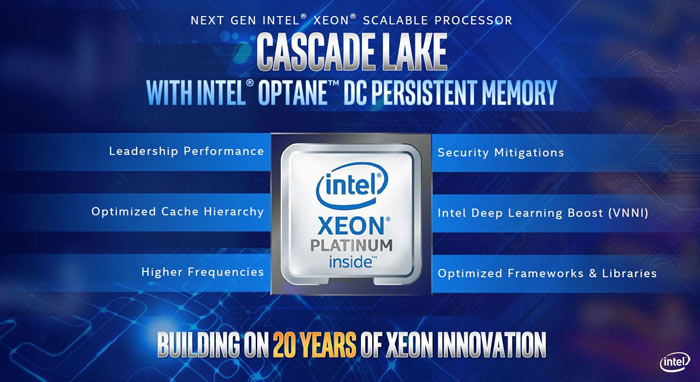 To give an idea of how these processors could be utilised in the most demanding high-performance computing (HPC), artificial intelligence (AI) and infrastructure-as-a-service (IaaS) workloads, Intel provided the following example performance numbers in its press release outlining Cascade Lake AP:
Linpack up to 1.21x versus Intel Xeon Scalable 8180 processor and 3.4x versus AMD EPYC 7601
Stream Triad up to 1.83x versus Intel Scalable 8180 processor and 1.3x versus AMD EPYC 7601
AI/Deep Learning Inference up to 17x images-per-second versus Intel Xeon Platinum processor at launch.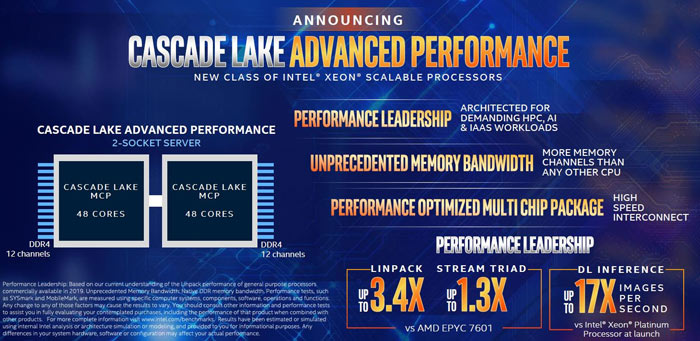 However there are lengthy notes of explanation with regard to the tests if you check the small print of the Intel blog and related PDFs. From these notes it is worth highlighting that the AMD chip tested, an EPYC 7601, is a 32C/64T part and that Intel tested it, and systems based upon dual-socket EPYC processors, with SMT off. Furthermore the Linpack binaries, for example, were compiled specifically for Intel. It sounds like it would be best to wait for third party benchmarks and testing, again.
Those interested in Cascade Lake AP will have to wait until next year for processors and systems to ship.
Intel Xeon E-2100 Processors
These new entry level server targeted Xeon LGA1151 processors offer between 4C/4T and 6C/12T, up to 12MB of SmartCache, 40 PCI 3.0 lanes, dual channel DDR4-2666 support for up to 128GB REAM, and TDPs ranging from 71 – 95W.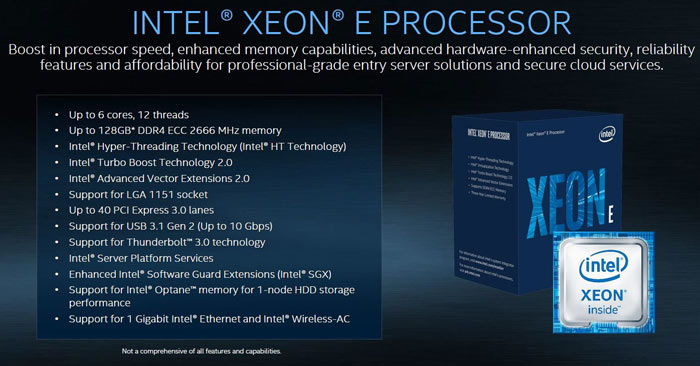 New in this updated range are the Intel SGX (Software Guard Extensions) hardware-based security and manageability features. It means that new entry-level servers featuring an Intel Xeon E-2100 processor can provide an additional layer of hardware-enhanced security measures with properly configured cloud applications.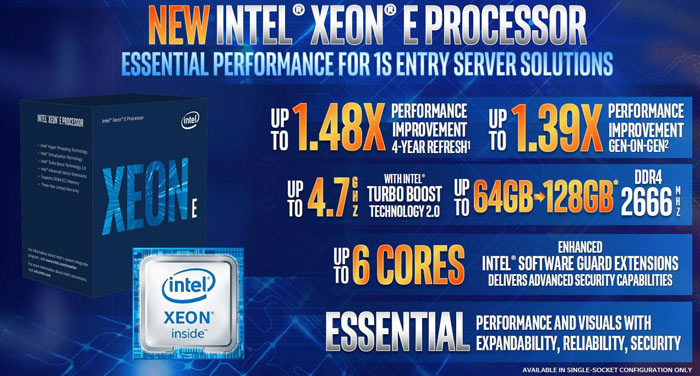 Intel says that the new Xeon E-2100 Processors are available immediately via Intel and its distributors.