AMD has gone official with a range of AMD 50th anniversary products and promotions. Last week we saw further leaks with information about the 50th Anniversary Ryzen 7 2700X CPU which was spotted in a listing, with photos, bearing the CEO's signature plus special packaging in black and gold. Over the weekend there were a few more dribs and drabs of information about this, in addition to the other special edition hardware we had reported upon earlier. You can find links to the AMD Ryzen 7 2700X Gold Edition, the AMD Radeon VII Gold Edition, and details about the two-games bundle on this dedicated page.

AMD's special edition Ryzen 7 2700X Gold Edition processor is just as was leaked prematurely. The processor is the same as the regular edition but the frills added are more than we reported on, based upon the leaks. With this purchase you will get the processor and fan with AMD CEO Dr. Lisa Su's signature imprinted on the processor cover and gold AMD50 packaging. Not only that, there are 2 free games, a Lisa Su signature sticker, and a free AMD 50th Anniversary shirt, too. The CPU bundle is available now for a limited time for $329 USD MSRP from select countries and retailers/etailers in North America, Latin America, Europe, Greater China and the Asia Pacific region.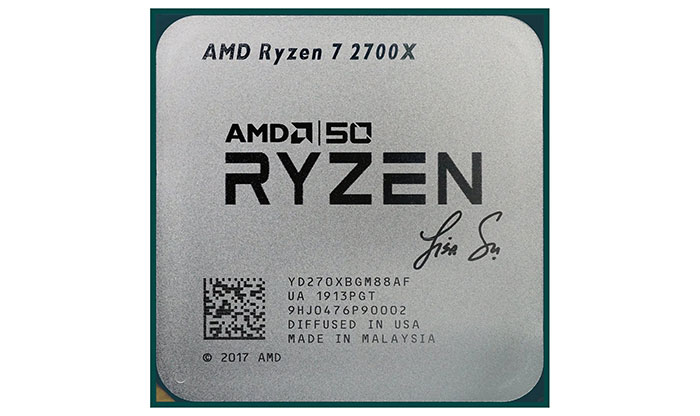 If you are interested in a new graphics card then you might be attracted to the AMD Radeon VII Gold Edition. This 7nm GPU packing 16GB Triple Axial cooler equipped graphics card comes with a red shroud, 2 free games, a Lisa Su signature sticker, and a free AMD 50th Anniversary shirt. Unfortunately this is a US and Canada only product, priced at US$699 including postage.
The two free games bundle featuring The Division 2 Gold Edition and World War Z comes with both of the commemorative products discussed above. However, you don't have to spend that much to qualify for this bundle as AMD has opened this promotion to a wide range of Ryzen CPU and Radeon GPU products. Please refer to the table below.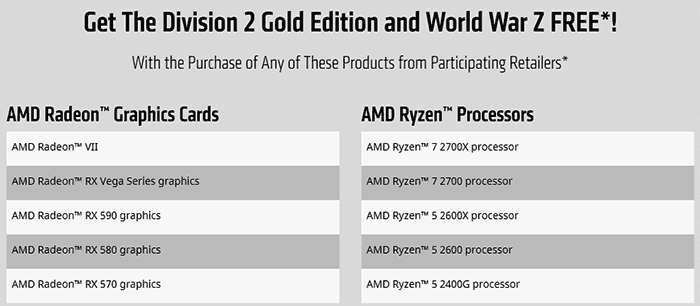 In previous leaks about #AMD50 we saw evidence of other anniversary products from the likes of Gigabyte (motherboard) and Sapphire (graphics card) but at the time of writing neither of these companies had updated their websites with such products. The AMD50 promotional period runs from 29th April through 8th June, 2019