Intel has cranked up the rhetoric at E3 2019, sticking its blue tinged flag atop of the peak called "real world gaming". On Sunday Intel hosted an event called 'gaming performance for the real world', where it sought to pre-emptively 'call out' AMD's claims to PC gaming supremacy. At the Intel event, the firm's VP of Tech Market Leadership, Jon Carvill, threw down the gauntlet, challenging AMD to beat Intel in "real world gaming".
According to a report shared by PCGamesN, Carvill asked attendees that were going to go and watch today's Next Horizon Gaming event to be sceptical about AMD's claims. "I want to challenge you to challenge them. If they want this crown - come beat us in real world gaming. Real world gaming should be the defining criteria that we use to assess the world's best gaming CPU. I challenge you to challenge anyone that wants to compete for this crown to come meet us in real world gaming. That's the measure that we're going to stand by."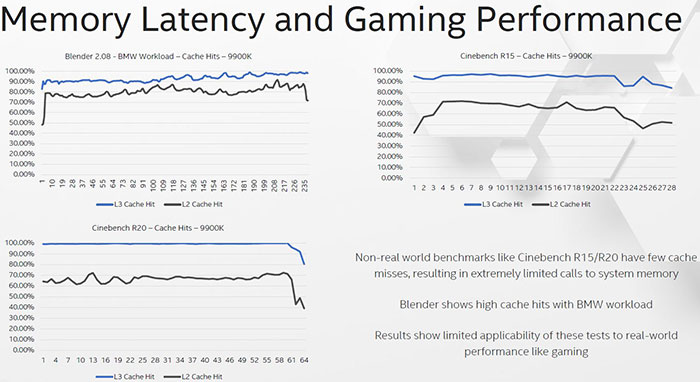 Intel was particularly dismissive of Cinebench benchmarks as being unrepresentative, even of productivity perfromance. Few use this software, and thus it isn't that relevant to most consumers, reckons Intel. Of course all companies prefer to highlight applications and games that make their hardware offerings look good, that's only natural, but once third party reviews come in, any outlier results are marginalised - that's why third party reviews are so valuable, especially shortly after a product first becomes available.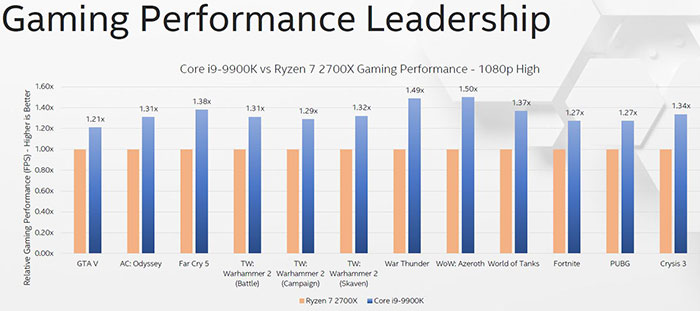 Whatever AMD unveils tonight, and gets released on 7th July, Intel seems confident that it will maintain its grasp of the gaming crown. For example it reckons the newly-announced i9-9900K and i9-9900KS, which it stresses are "genuine shipping product," will be sitting on the performance throne next month. AMD's own testing indicates that its Zen 2 chips can deliver an IPC increase of 13 per cent, but will that be enough?
Intel went on to pooh-pooh the practical benefits of the PCIe 4.0 interface, even with the beefiest contemporary graphics cards. Any benefits were not detectable today "and not in the immediate future," asserted Carvill.
PCPer also reported from Sunday's Intel event and included presentation various charts, including the two reproduced above. This report included a deeper dive into AMD vs Intel CPU rivalry, looking at memory latencies, cache technology, and software development commitments. An important thing it highlighted was that Intel's main comparison charts featured the Zen+ Ryzen 7 2700X on the eve of the Ryzen 2000 series being succeeded, and the touted king of gaming, the Intel i9-9900KS, is not 'real world' as yet with its pricing, availability and thermals all unknowns.
Intel's combative comments and comparative charts have certainly set the stage for tonight…