Intel has officially, but cryptically, announced the date on which it will reveal the next generation of the Core processor family. Late on Friday Chipzilla published a Chip Shot blog post saying that the processors were "coming soon", the blog translated soon as "in approximately 3,337,200,000,000,000 nanoseconds". Add that time to the time of the post and we get 3rd June, the day before Computex 2013 kicks off. It's quite common for leading companies to precede a trade show with their special news announcements and associated press events.
The rest of Intel's Chip Shot doesn't reveal very much except for crowing that "the new family of processors will surpass old technology expectations and usher in a host of striking new designs with incredible performance and extraordinarily long battery life". Indeed battery life should get a big boost in the latest portables powered by Haswell chips. ZDNet quotes Intel CEO Paul Otellini as saying the new line of processors will deliver "the single largest generation-to-generation battery life improvement in Intel history". That should translate to a full working day of battery life in many cases.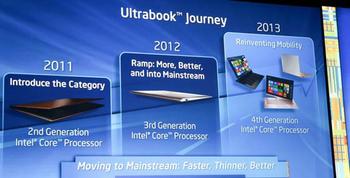 In terms of the performance of Haswell chips, while being less power thirsty, they should offer a gain of around 10 per cent compared to similarly clocked Ivy Bridge designs. The integrated graphics are said to get a much more significant boost to almost double the 3D speed of current Intel HD graphics offerings. According to a senior Intel exec that equates to offering "the same visual experience and gameplay as a discrete graphics card" in an integrated form.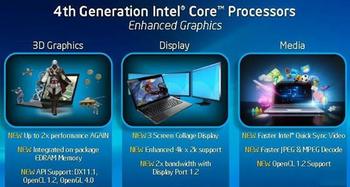 Turning to the other features Haswell will bring to PCs; the new processors are expected to enable even thinner and lighter Ultrabooks. The Ultrabook spec that includes Haswell processors states that touch-screens are a must, so Windows 8 will feel much more at home. Also Intel's Wi-Fi display system WiDi is part of the new spec. We are looking forward to lots of exciting new PC designs using Intel's latest and greatest processors to be shown throughout the Computex show that immediately follows Intel's unveiling.