The latest milestone release of the AMD graphics card drivers has been delivered. AMD Radeon Software Adrenalin 2019 Edition (v 18.12.2) has a multitude of new features and includes support for new games, performance updates, and stability improvements too.
After a read through the online and downloadable information and watching several new official AMD YouTube videos about the latest driver I think the biggest new feature is that users will be able to stream and play their PC games on a mobile device via AMD Link. The functionality can go beyond gaming, by providing access to the Windows desktop and apps on your touchscreen iOS or Android phone or tablet, but it has been primarily designed for gamers. If you have one of the smartphone-based headsets like the Samsung Gear VR or Google Daydream then AMD Link can work with that too.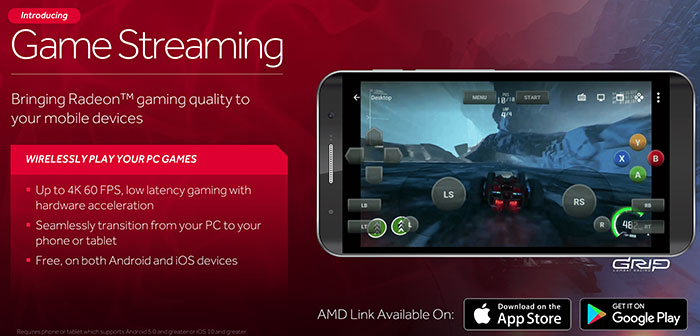 AMD Link, once set up, can turn off your PC display as you enjoy your game on the mobile device with either on-screen controls or Bluetooth controller, for example. AMD's game streaming is capable of up to 60Hz 4K - depending upon the usual things like GPU, network connection, etc.
If you are thinking this is a competitor to the Steam Link app or Nvidia GeForce Now, you would be partly correct. You must consider that the Steam Link hardware box has been discontinued, it is no longer available for iOS, and AMD asserts that its own app has a 44 per cent faster response rate than Steam Link (the app, not the box).
AMD Link doesn't just allow the above, it is also an app that allows quick touchscreen access to tools such as WattMan, is now capable of acting on voice commands 'Hey Radeon'. Commands are limited to Radeon ReLive and performance metric information.
Improvements have also been delivered to Radeon ReLive, with instant replays, a scene editor, GIF support, multi-channel audio support and more.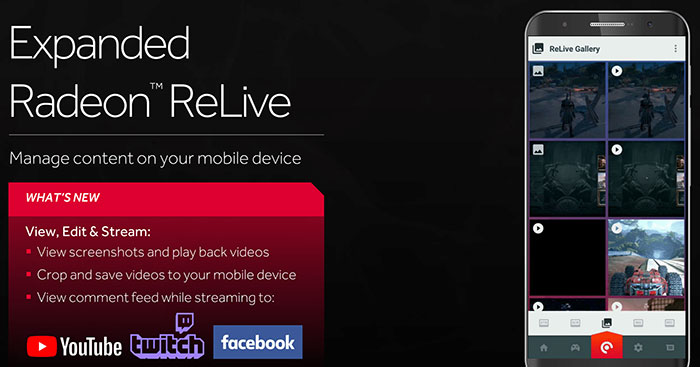 Radeon Overlay now has enhanced sync controls in the display tab and you can quickly find these settings plus FreeSync, per game colour settings, Wattman, performance metric visibility controls all in the overlay.
Radeon WattMan offers one click tuning with Auto Overclock GPU, Auto Overclock Memory and Auto Undervolt GPU, has fan adjustments, zero fan control, and curves. Furthermore, it can optimise for memory bound apps, and takes consideration of special Vega GPU features.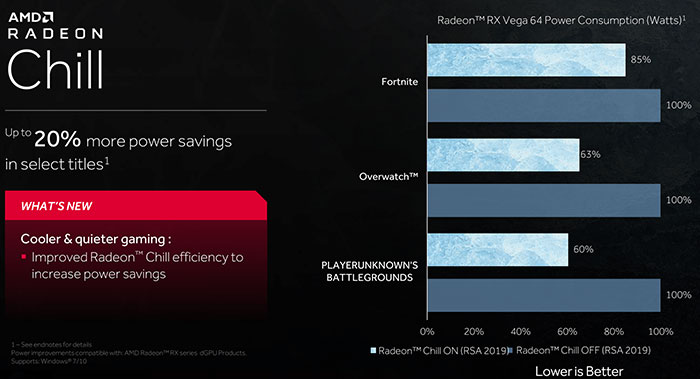 Outside of Wattman there are other auto-tuning options thanks to features such as the Radeon Game Advisor, Radeon Settings Advisor, and Radeon Upgrade Advisor - see the video below.
Other headlining additions to this latest AMD Radeon driver include support and optimisations for a quintet of games:
Assasin's Creed Odyssey (up to 5 per cent faster on the Radeon RX Vega 64)
Shadow of the Tomb Raider (up to 3 per cent faster on the Radeon RX Vega 64)
DOOM (up to 5 per cent faster on the Radeon RX Vega 64)
Wolfenstein II: The New Colossus (up to 5 per cent faster on the Radeon RX Vega 64)
Strange Brigade (up to 7 per cent faster on the Radeon RX Vega 64)
Vulkan support has been expanded with four further extensions supported by the API now accelerated on Radeon. Lastly, there are a dozen or so fixed issues and remaining issues, which you can pick through in the release notes. The new AMD driver (v 18.12.2) is available to download directly (.exe files) below.