Earlier today HEXUS reported upon the all-new Apple Mac Pro which featured, as configuration options, a choice of up to two AMD Radeon Pro Vega II Duo graphics cards pre-installed - that would deliver 4x GPUs with up to 128GB of HBM2 and 56 TFLOPs of graphics processing performance. AMD has now made its own announcement about these new Pro Vega II GPUs and published its official product pages, so it is worth a further look.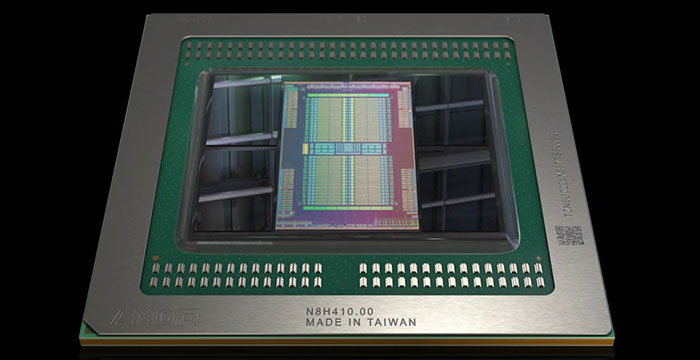 AMD says that its new Radeon Pro Vega II GPUs "provide groundbreaking levels of graphics performance for computation-intensive tasks, including rendering, 8K video, video effects, and other high-end content creation workloads," and it looks like Apple agrees.
A single AMD Radeon Pro Vega II GPU can provide up to 14 TFLOPS of single-precision floating-point (FP32) performance and up to 28 TFLOPS of half-precision floating-point (FP16) performance and AMD has prepared both a single and dual-GPU card based upon this processor, the Radeon Pro Vega II and Radeon Pro Vega II Duo GPUs, respectively.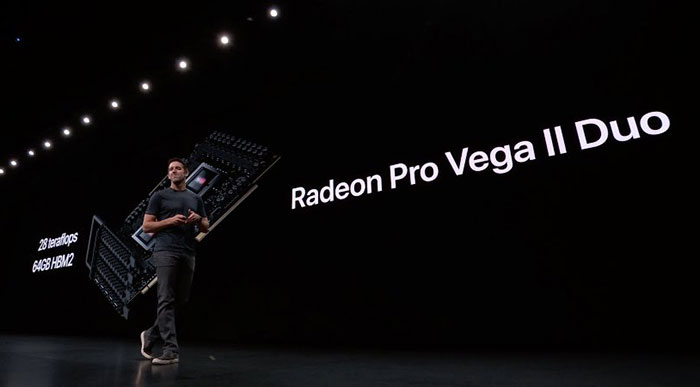 Each GPU has 64 Compute Units for 4096 Stream Processors, and supports 32GB of HBM2 memory. This is the standard spec of the Radeon Pro Vega II graphics card, but then the Radeon Pro Vega II Duo doubles it. These GPUs use an Infinity Fabric Link for fast data transfer (84GB/s) and low-latency peer-to-peer memory access - it is claimed to be up to 5X faster than PCIe Gen 3 interconnect speeds.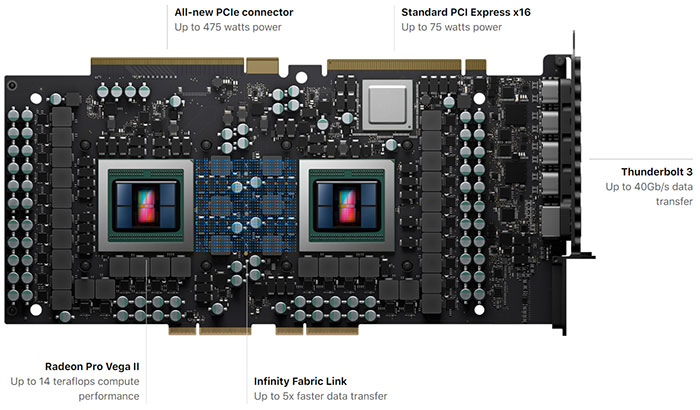 These are pro- and creator-targeted graphics cards and optimised for apps that need a lot of muscle for rendering high resolution outputs. With regards to the Apple ecosystem, the drivers offer Metal API support. If you are interested in the performance on offer from the likes of the Radeon Pro Vega II but don't want to buy into the Apple ecosystem, you will find that that card is very similar to the AMD Radeon Instinct MI60 accelerator, launched last November. However, there isn't an Instinct equivalent to the Pro Vega II Duo as yet and it may remain an Apple Mac Pro exclusive.