You will have no doubt read the extensive review of the new AMD Radeon RX 480 here on HEXUS. One thing that many readers have been discussing is the stock cooler on the review card and what OC possibilities lie ahead for the Radeon RX 480 with the arrival of third party designed/cooled graphics cards. Already we are starting to see the first glimpses of the AiB partner designs that are being created to entice and delight you.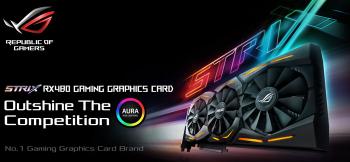 Asus ROG has kindly written a blog post about its upcoming ROG Strix RX 480. Regular readers will be aware of the common Strix theme of semi passive cooling. The fitted DirectCU III cooling solution "will result in a faster and quieter graphics card," says Asus - it should be silent when it isn't being taxed as the fans will cease to spin under light load.
The Asus designed triple fan cooled card will look rather eye-catching with its black metal shroud and backplate with Aura RGB lighting. Buyers will also get the opportunity to fiddle with the Asus GPU Tweak II utility for easy one-click overclocking or dive into pro mode – if WattMan isn't enough to satisfy.
MSI published a rather vague article about adding the AMD Radeon RX 480 to its graphics card lineup. The main picture in the article is of an MSI card sporting the stock cooler. However if you scroll to the bottom of the piece there is mention of an upcoming custom design and a small teaser picture, as reproduced below:
MSI GAMING X models sporting the Radeon RX 480 GPU cooled by the award-winning TWIN FROZR VI can be expected soon.



Last but not least we have a new version of the Sapphire RX 480 'cheese grater', or colander, design. VideoCardz has published this picture and has a few details about the upcoming card. Apparently the RX 480 Nitro will use an 8-pin power connector rather than the standard 6-pin one. Furthermore, the NITRO card's fans and top logo have RGB lighting, new revision black diamond chokes are fitted to the board, and there's a DVI port included. For more info check out this video from 11mins 15s onwards.