Perhaps the headline doesn't do LG Display justice, as this new proof of concept OLED TV is actually under 1mm thick, measuring just 0.97mm from front to back. This 55-inch TV was revealed at a press event in South Korea on Tuesday. At the event it was shown being applied to a wall like a huge flexible fridge magnet.
LG's new 55-inch OLED TV isn't just unbelievably thin and flexible it is also light, weighing in at just 1.9Kg. The current 55-inch OLED TV flagship from LG is 4.3mm thick so the new display represents quite an advancement.
The exhibit of the above display was the centrepiece of a more general presentation by LG Display management discussing its OLED display panel strategy. The firm pledged to focus on high-end displays as a future growth engine, reports Yonhap News Agency. Manufacture of displays will be ramped up to meet foreseen demand. LG display aims to sell 600,000 OLED panels this year and nearly triple that, 1.5 million units, next year.
Large screens will be a focus for the company with 99-inch panels due later this year joining the lineup of 55-inch, 66-inch and 77-inch OLED models already on the market. Interestingly, in just one and a half years, manufacturing yield has reached the level that LCDs managed after ten years. With the manufacturing tech working smoothly the company plans to "buckle down production as well as promotion from the third quarter".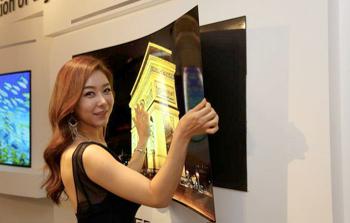 Further innovative displays are being targeted by LG Display and it expects to upgrade plastic OLED displays with transparent, rollable and flexible qualities for wearables and vehicle deployment.