Yes, this is a mouse, not Play-Doh
Winner of 2007's Red Dot Design Concept Award was Lite-On's Moldable Mouse, made of lightweight modelling clay and covered with a nylon and polyurethane blend fabric.
In other words, the mouse resembles the Play-Doh that you used to play with as a kid. It isn't like hard mouse you're accustomed to using, it's materials are designed to allow the user to knead it into any preferred shape, and most importantly, the shape is self-retaining. Well, you wouldn't want it to turn into a blob when you let go now would you?
The mouse buttons and scroll wheel are stick-on parts and use radio frequency so they can be positioned exactly where you want them. They say this thing feels similar in texture to silk and that you can get it in just about any colour, with patterns and graphics if you so desire.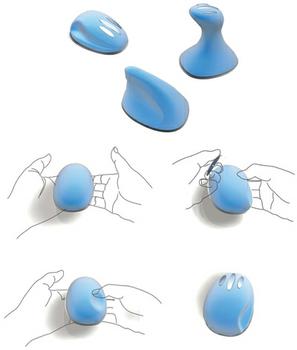 Unfortunately, it's only a concept design and not yet in production. We will be hoping it'll make it to stores one day though, this could be the answer lefties have been looking for. Not to mention it looks like a whole lot of fun to play with.