If you are a budget conscious gamer and on the lookout for a new rodent Tt eSPORTS has you in its sights. Today the Taiwanese gaming peripherals specialist, owned by Thermaltake, launched the TALON series of optical gaming mice. With these mice Tt eSPORTS "aims to show that quality engineered gaming grade mice" can be made and marketed for a smidgeon under US$20.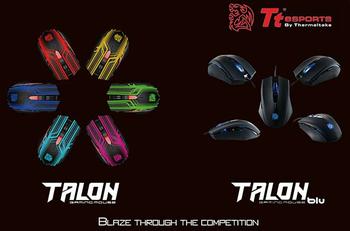 There are just two members of the TALON range at launch; the TALON and TALON Blu. They only differ in their LED lighting schemes and are otherwise based upon the same key component hardware. The TALON has lighting accents that show through the chassis top and sides cycling though six colours (red, orange, yellow, blue, dark blue, and purple), though you can also pause the cycling or turn off the lighting completely. The TALON Blu is "more subtle" with blue LED illumination on the mouse wheel, dragon logo, and sides.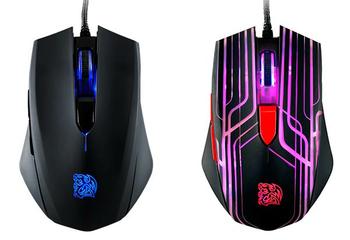 DPI: 3000 DPI
SENSOR TYPE: INFRARED (OPTICAL)
NO. OF BUTTONS: 6
LIGHTING EFFECT: Fixed colour cycling effect
USB CABLE LENGTH: 1.5M
WEIGHTS: Built in weights (non-removable)
GOLD-PLATED USB: YES
Fleshing out the above specs Tt eSPORTS informs us that the sensor model in these mice is the AVAGO 3050 Infrared Optical sensor which is both "very accurate" and offers a "high maximum movement speed". A button dedicated to DPI adjustment on the top of the mouse switches between 500, 750, 1500, 2500, and 3000 DPI. Tt eSPORTS has equipped these mice with OMRON switches.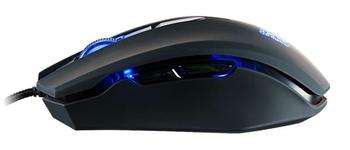 The mouse design is claimed to be ambidextrous and its side panels are detachable to allow users to shape the mouse to their hands. However thumb buttons (mouse 4 & 5) are on the left side of the mouse. There's no additional software needed to use these TALON mice – macros and game profiles are not part of the equation.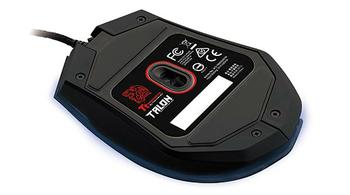 Both the TALON and TALON Blu mice will be available for US$19.99. The release date is set for 20th October according to the pre-order page on NewEgg.