Microsoft has finally approved the latest Intel HD Graphics driver for roll out to its Surface Book and Surface Pro 4 machines. The Intel driver, version 15.40.25.4463, became generally available in the middle of June, and brings many enhancements and fixes to those who rely on their Intel integrated GPUs.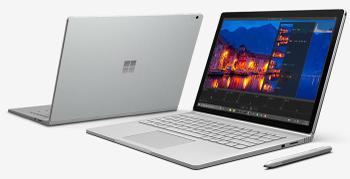 Intel says in the driver release notes that "Whether you're a casual gamer, power user, or gamer, this driver is aimed to improve your overall experience." The reason that this is an essential upgrade for those that rely on Intel graphics is clear: "We've fixed many hangs, crashes, and graphics corruptions across a wide spectrum of games and applications. We're especially pleased to report that this driver also fixes some long standing and frequently reported graphics issues on Intel's Support Community".
The Intel HD Graphics 515 and 520 in the Surface Book and Pro 4, and Iris Graphics (540) in the Surface Book with discrete GPU, all benefit from the new driver. High profile Surface Book users such as 'Windows Insider' Paul Thurrott are eager to see if the new driver can iron out several wrinkles that still exist in Microsoft's premium priced Surface Book and Surface Pro 4.
New Intel driver works with Haswell and newer processors
If you own one of Microsoft's latest Surface machines this new driver is very probably good news for you. If you own some other machine with an integrated Intel GPU then it might also be well worth updating, if you haven't done so already. The Intel driver page says that the new software is available for Windows 7, 8, 8.1, and 10 both 32- and 64-bit versions. If your Intel processor has integrated graphics, and is from the 4th generation (Haswell) or newer, then this driver could give your system a boost and stability benefits. It is also compatible with Pentium, Celeron, and Atom processors based on Braswell and CherryTrail.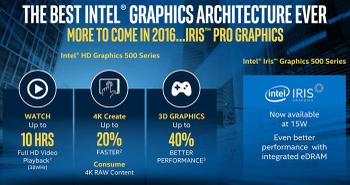 Key fixes listed by Intel include graphics corruption in Just Cause 3, Forza Apex, The Witness, XCOM 2, Ark Survival: Evolved on Windows 10. Common system hangs/crashes in Doom (2016), Rise of the Tomb Raider, F1 2015, Just Cause 3, Witcher 3: The Wild Hunt: Hearts of Stone, Day Z, Ark Survival Evolved, Arma III, DayZ have also been fixed. Furthermore, various issues with WiDi, sleep, and media playback have been patched up. For the full lowdown please refer to the release notes (PDF).