Intel previously revealed its SSD 665P Series Neptune Harbour Refresh devices at its Storage Day event in South Korea. Now the firm has officially launched these M.2 NVMe SSD storage devices.
The Intel SSD 665P Series are designed for the client segment, or in other words, for "everyday computing needs". Thus they offer a competitive level of performance and affordability in this busy segment. Intel's latest QLC 3D NAND technology is put to play here to deliver a good £$ per GB and these SSD 665P Series drives are the first to use Intel's 96-layer QLC NAND flash chips.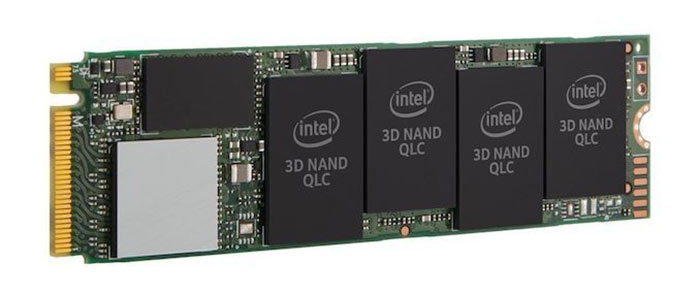 Other key components in these M.2-2280 format drives are; the Silicon Motion SMI2263 series controller, and an LPDDR3 DRAM cache. Alongside the NAND these connect to your PC's M.2 slot using the PCI-Express 3.0 x4 host interface.
Trying to provide reassurance with regard to the durability of these new QLC drives, Intel says that compared to its previous QLC efforts the SSD 665P Series offer "improved performance and up to 1.5x the endurance, up to 600 TBW". Intel's floating gate architecture "has tight, symmetrical layers and no cell overhead," we are told.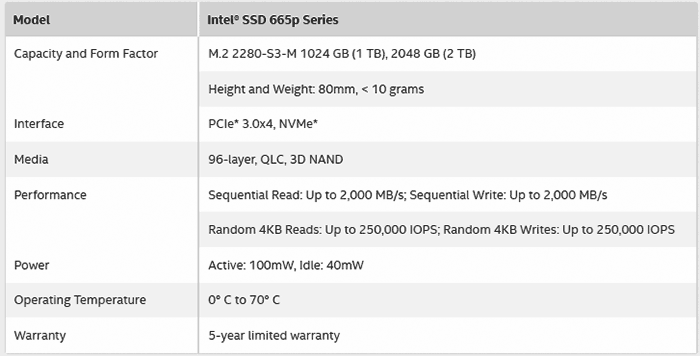 Above you will notice that Intel is releasing just two capacities of this SSD, at least initially. In the table you see the performance figures for the 2TB unit. The 1TB version is a little slower at sequential writes (1925 MB/s) and its IOPS figures are up to 160,000 IOPS random reads, and up to 200,000 IOPS random writes. Endurance ratings for the new 1TB and 2TB SSDs are 300 and 600TBW, respectively - quite a step up from their 660P series counterparts.

With regard to pricing and availability the 1TB model has an MSRP of US$125 but we don't know about the 2TB model yet. Obviously MSRPs often quickly diverge from market pricing due to the competitive landscape. Whichever Intel SSD 665P Series storage device you choose you will receive a five year warranty.