Storage specialist LaCie has upgraded its Rugged series of, well, ruggerdised external hard drives with the XL model.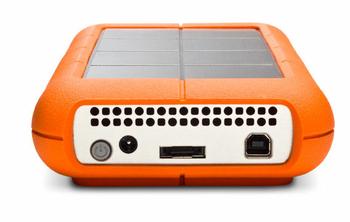 The Rugged XL, designed by canny Scot,
Neil Poulton
, ships with a 1TB internal 3.5in hard-drive that's protected from mishaps by an aluminium caddy enclosed inside a rubber sleeve and, LaCie says, an internal bumper that stops the drive from moving around if knocked over.
Shipping with eSATA, USB2.0, and a host of software, the drive ain't cheap, retailing at $160 and, wouldn't you just know it, £160, including VAT. Since when was the dollar-to-pound exchange rate, including taxes, at 1:1 - don't get me started on that.
Considering that Tesco currently etails a stylish-looking Iomega 1TB external drive for
£69.97
- with further discounts possible - you're paying an awful lot for a bit of rubber.
Price it at £99.99 and you have a winner on your hands, LaCie, but £160 is just too much, we reckon. Your thoughts, please?
Official specifications
here
.