Microsoft has announced the Surface Pro tablet will be available "by the end of May" in 19 new territories, which include the UK. Five further territories will have to wait until June to get their hands on the Windows 8 Pro powered tablet, so we aren't the last... Currently only people in the US, Canada and China can buy it.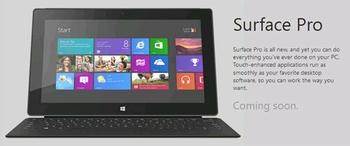 Surface Pro availability, country by country
Australia, Austria, Belgium, Denmark, Finland, France, Germany, Hong Kong, Ireland, Italy, Luxembourg, New Zealand, the Netherlands, Norway, Portugal, Spain, Sweden, Switzerland, and the United Kingdom are all going to get Surface Pro availability by the end of May. Korea, Malaysia, Russia, Singapore, and Thailand will have to wait until June for availability of Microsoft's flagship tablet.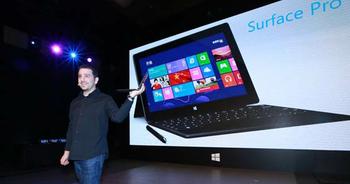 128GB Surface Pro stock shortages
Brian Hall, general manager for Microsoft Surface, wrote on the official Surface blog that "enthusiasm for Surface has been fantastic". This has translated into the firm suffering supply shortages of the 128GB version of the Surface Pro "one of our biggest challenges has been keeping our 128GB Surface Pro in stock. We've worked hard to increase availability, and most retail partners in the U.S. and Canada as well as the Microsoft Store now have the 128 GB product consistently in stock," he said.
In January we learned that the Surface Pro 64GB version was pretty tight on available free space, even when "box fresh" so it isn't surprising to hear the 128GB version is favoured by those paying $$$s for one of these devices.
Last month we learned that Microsoft had only sold a combined total of 1.5 million Surface tablets. This figure was made up of just over a million Surface RT tablets and 400k Surface Pro tablets. Also some Windows RT device makers, such as Samsung, were withdrawing plans to sell such devices and looking at the putting more resources into Google Chromebooks. However recent research by Net Applications indicates that isn't a better strategy.
More precise launch dates and pricing will be revealed country by country, as the time grows closer. Are any readers eagerly waiting for the Surface Pro to be launched here?