Spain-based Geeksphone has started to sell its Firefox OS developer smartphones via its web store today. Two models are on offer, the Keon and the Peak, priced at 110 Euros and 179 Euros respectively, including tax. The more expensive phone has a slightly faster processor and a better quality, larger screen among its advantages.
These Geeksphone models are the first Firefox phones to market. Much bigger and more well known companies have publicly committed to making and selling their own Firefox OS phones in the not-too-distant future; Sony, LG, Huawei, ZTE and Alcatel included. TheNextWeb reports that some of these companies will start to sell their non-developer mass market Firefox OS phones from June in territories including Spain, Portugal, Poland, Brazil and Venezuela.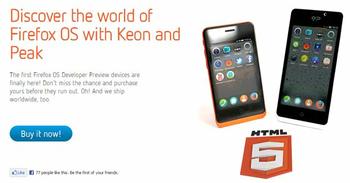 This new pair of Geeksphones does already seem to have received unexpected amounts of interest. I've read that the sales page is now live, however it seems to have collapsed under the strain of too many interested browsers and shoppers. Let's hope Geeksphone can sort out this unfortunate problem as they may be missing out on a large number of hardware sales. This small Spanish startup is purportedly able to manufacture up to 5,000 Geeksphones per day. Shipping for any devices ordered will commence this week.
We saw the Keon and Peak revealed at the end of January so none of the hardware here is a surprise. As a reminder the specs are as follows:
The Keon model

CPU Qualcomm Snapdragon S1 1Ghz
UMTS 2100/1900/900 (3G HSPA)
GSM 850/900/1800/1900 (2G EDGE)
Screen 3.5″ HVGA (320x480) Multitouch
3 MP Camera
4GB ROM, 512 MB RAM
MicroSD, Wifi N, Light and proxmity Sensor, G-Sensor, GPS, MicroUSB
1580 mAh battery
Over the air updates
Unlocked, add your own SIM card

The Peak model

CPU Qualcomm Snapdragon S4 1.2Ghz x2.
UMTS 2100/1900/900 (3G HSPA).
GSM 850/900/1800/1900 (2G EDGE).
Screen 4.3″ qHD (540x960) IPS Multitouch.
Camera 8 MP (back) + 2 MP (front).
4 GB (ROM) and 512 (RAM).
MicroSD, Wifi N, Light and proxmity Sensor, G-Sensor, GPS, MicroUSB, Flash (camera).
Battery 1800 mAh.
Many people will argue that we don't need another Smartphone OS. However, as you read above, Mozilla's mobiles have got some seriously big manufacturers like Sony and LG committed to making phones. Also the other vital half of the equation, mobile networks with their associated distribution channels, are also well represented. Many of the markets Mozilla is aiming at still have a relatively low penetration of smartphones vs feature phones.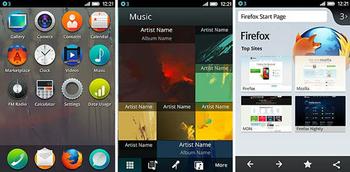 If you are interested in the apps currently available for a Firefox OS mobile you can go here and have a browse, you will see such apps as Twitter, Soundcloud, Pulse and Accuweather highlighted. Also developers, the intended buyers of the Keon and Peak, are well catered for in the Firefox Marketplace Developer Hub.
UPDATE: The Geeksphone Store is back online and the shopping basket is working.