Today Qualcomm has launched a new processor that beats its flagship Snapdragon 820 by a full 10 per cent in performance terms. Rather than replace the Snapdragon 820, Qualcomm has decided to extend its lineup with the new Snapdragon 821 at the top. Qualcomm expects the first shipping devices powered by the Snapdragon 821 to reach the market before 2016 is out.
The Snapdragon 820 was launched in November last year after a lengthy tech tease campaign by Qualcomm. In the weeks running up the launch we were drip fed info about all the core components which would make this SoC design such a hit with device makers. This was Qualcomm's first 14nm FinFET flagship chip and it boasted new Kryo CPU cores (the successor to Krait), an Adreno 530 GPU, a Hexagon 680 DSP, upgraded Spectra ISP and camera functionality, Zeroth cognitive tech, and an X12 LTE modem.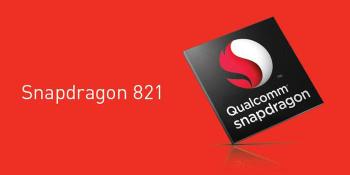 At the time Qualcomm stated its Snapdragon 820 offered 2X the performance and efficiency of the Snapdragon 810, complemented by 40 per cent faster graphics, 3x faster LTE connectivity, and improved imaging capabilities. It went on to be adopted in "over 115 premium smartphone and tablet device," designs. Prestige devices such as the Samsung Galaxy S7 and Galaxy S7 Edge, Xiaomi Mi5, LG G5, HTC 10, and Sony Xperia X are all available packing the Qualcomm Snapdragon 820 chip. Qualcomm's latest and greatest SoC has been on many mobile device enthusiasts' spec lists as a must-have component.
At the time of writing the Snapdragon 821 launch information from Qualcomm isn't very comprehensive. We have a news release and some statements about improved speeds, efficiency and application performance, but so far lack detailed tech specs. Furmthermore, the new processor doesn't have a dedicated product page as yet. What Qualcomm says is that the "Snapdragon 821 is engineered to deliver a 10% performance increase over the 820". The firm has achieved this largely with its clock speed tweaks it seems, as that is all the solid information we have been given; the Qualcomm Kryo quad-core CPU reaches speeds up to 2.4GHz - in the Snapdragon 820 it peaked at 2.2GHz. It is hoped that the new shot of speed will "help set a new bar for smartphones, tablets, mobile VR head mounted displays."
Qualcomm promises further information about the Snapdragon 821 will be forthcoming "soon". It will be interesting to learn if any other components of the SoC have been changed or tuned to improve its capabilities.