Bethesda has implemented the Vulkan API in DOOM on the PC. It says that its "big technology push" will bring higher framerates and therefore improved player movement and feel, to provide an "amazing" experience, making the most of the hardware in your PC.
We are reminded that Vulkan is a cutting-edge next-generation graphics and compute API from the Khronos Group. It allows low-level access to your PC's hardware resources and "moves most of the driver overhead into the developers' hands". Bethesda says that it has worked closely with both AMD and Nvidia daily since March 2016 in getting DOOM and Vulkan working the best they can on modern PCs.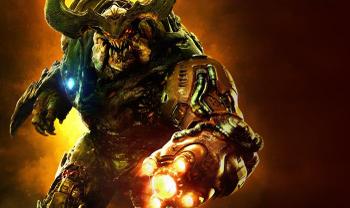 When launching DOOM from Steam you will get a prompt with a new menu to choose either OpenGL or Vulkan. Whatever you choose, it is possible to switch in game via the Settings > Advanced > Graphics API options menu. However, please note that if you switch, the game will restart. To uncap the framerate you must disable V-Sync in the in-game settings. At the current time only AMD GPUs with the new driver (see below) can run DOOM with asynchronous compute support.
For compatibility, if your graphics card meets the DOOM minimum requirements, it likely supports Vulkan. Exceptions to that rule include owners of the Nvidia GTX 690, and any Nvidia graphics card with 2GB of RAM on Windows 7 systems.
The recommended drivers for Nvidia users are the Game Ready v368.69 WHQL drivers released last week. For AMD users there are some very new drivers, released just a few hours ago, the Radeon Software Crimson Edition 16.7.2 driver.
AMD's new driver
Only last week AMD released a new driver to address the PCI-e power draw issue that stirred up quite a bit of news coverage. Now a new driver, 16.7.2, has arrived with support for DOOM (with the Vulkan API). AMD also took the time to tweak some other aspects of the driver. Building on the power draw features, AMD has now introduced a compatibility mode UI toggle which is 'off' at its default setting. It has also made sure that if you restore factory defaults the toggle will be off. Full release notes for the new AMD driver are here, as are download links.
Performance impact using a Radeon RX 480
We've done quick tests ourself.

AMD Radeon RX 480 - 16.7.2 drivers. FRAPS doesn't work in Vulkan so we've benchmarked by pulling up the 'show performance metrics' in the advanced section, running around our map, and dividing the number of elapsed frames by the time to give an average FPS. The results may not be absolutely identical to what we've shown before - available here - but they're consistent in themselves and actually very close to the OpenGL 4.3 you see on that page.

OpenGL

19x10 - 103.2fps
25x14 - 66.8fps
38x21 - 34.1fps

Vulkan

19x10 - 126.4fps (22.5 per cent uplift)
25x14 - 80.3fps (20.2 per cent uplift)
38x21 - 39.2fps (15.0 per cent uplift)

Nice gains, huh? Being fair to Nvidia, AMD's OpenGL performance was way below par in Doom. The Vulkan numbers put the RX 480 on the right sort of footing against GTX cards, going by comparative performance in other games.