There are fears that a newly launched £3.5bn Royal Navy aircraft carrier could be vulnerable to cyber attack. As The Guardian reports, the HMS Queen Elizabeth left the Rosyth dockyard yesterday and officials were keen to show off the large and powerful new ship. However, on a tour of one of the control rooms it was spotted that several PC systems were running Microsoft's 2001 vintage Windows XP operating system.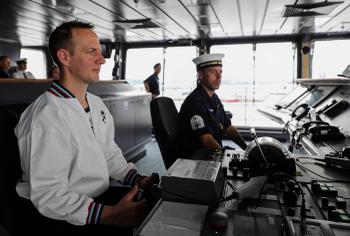 Windows XP was on the NHS and other organisation and company systems which suffered the full force of the WannaCry ransomware attack last month. The vulnerability was so bad that Microsoft made the unprecedented step of issuing patches for this long unsupported OS.
Discussing cyber security on board the HMS Queen Elizabeth, Commander Mark Deller told The Guardian that "The ship is well designed and there has been a very, very stringent procurement train that has ensured we are less susceptible to cyber than most." Deller added that "We are a very sanitised procurement train. I would say compared to the NHS buying computers off the shelf, I would think we are probably better than that. If you think more Nasa and less NHS you are probably in the right place." On the topic of outdated hardware and software choices Deller asserted that it is a long process to design and build such a ship and it would be updated in due course as required.
Beyond the built-in systems of HMS Queen Elizabeth, Lt Cmdr Nick Leeson, senior warfare officer advised that a team of cyber specialists would work among the 700 strong crew aboard the ship with duties including hacking defence.
Info-chart from The Telegraph
Further assurance was provided by Sir Michael Fallon on the BBC Radio 4's Today programme this morning. Fallon said "I want to reassure you about Queen Elizabeth, the security around its computer system is properly protected and we don't have any vulnerability on that particular score," reports The Telegraph.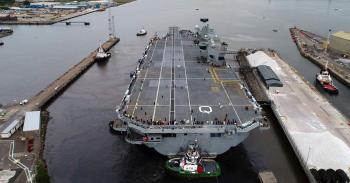 The HMS Queen Elizabeth will be joined by a second ship in its class, HMS Prince of Wales, which is still being fitted out in Rosyth docks.