Microsoft announced the Windows 10 Anniversary update back in March at its BUILD 2016 developer conference. At the time we got the rather nebulous time slot of "this summer" provided as the launch date. Of course, being an anniversary update, was a clue to narrow down its expected launch date – the date precisely one year from its global launch anniversary would be 29th July 2016.
Now it looks like the precise date for the availability of the Windows 10 Anniversary update will be Tuesday, 2nd August. Perhaps there will be some kind of 'celebration' on Friday, 29th July but the downloading taps won't be turned on until the following Tuesday. This information comes from the fact that Microsoft published a blog post a few hours back with the following headline: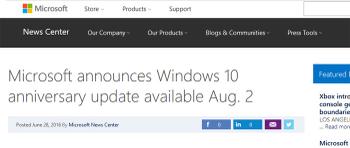 According to The Verge, the story was only up for 'moments' so no one grabbed any content and only the headline was seen and recorded. It is thought that someone in Microsoft's web/blog publishing department accidentally activated the story but the error was soon corrected. With the blog post ready to fire, it probably won't be that long until we get to see the whole post, officially.
The Anniversary Update will be free to anyone who is running Windows 10 but it also marks the end of the free upgrades from Windows 7 and 8.x, or so we are lead to believe. The update is said to bring improved biometric security, Windows Ink, a dark mode, more Cortana integration and features, plus further fit and finish to the Windows OS. One addition we aren't looking forward to is further Start Menu advertising slots, but that shouldn't be a problem for existing users upgrading.
UPDATE:
The full blog post, referred to above, has now been published by Microsoft.
REDMOND, Wash. — June 29, 2016 — Microsoft Corp. on Wednesday announced that the Windows 10 Anniversary Update is coming to all Windows 10 devices — for free1 — on Aug. 2. Windows 10 continues to be the fastest-growing version of Windows ever and is now running on more than 350 million devices. The Windows 10 Anniversary Update has all-new breakthrough features that bring Windows Ink and Cortana2 to the mainstream; a faster, more accessible and more power-efficient Microsoft Edge browser; advanced security features for consumers and enterprises; new gaming experiences; and new tools for the modern classroom. To help protect businesses from today's modern threats, Microsoft also announced two new security features for enterprise customers: Windows Defender Advanced Threat Protection and Windows Information Protection, formerly referred to as enterprise data protection... more