Samsung has announced that it has broken the Terabyte threshold for smartphone storage. Its new 1TB Embedded Universal Flash Storage (eUFS) chips can offer mobile users oodles of built-in storage without resorting to microSD cards, and provide 10x the speed that type of memory expansion card would typically provide.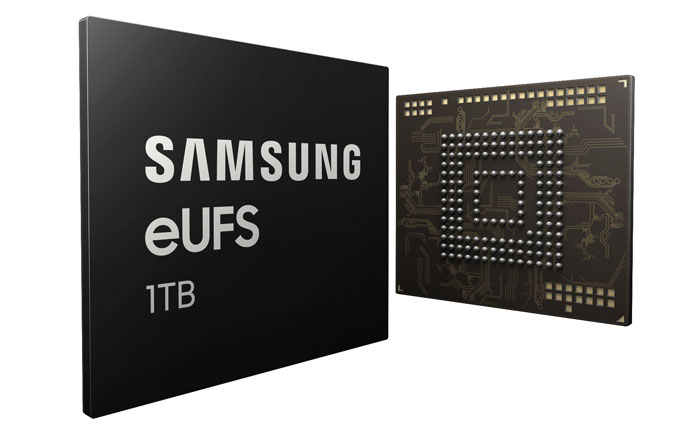 The new 1TB flash components are just 11.5mm x 13.0mm, the same size as Samsung's previous 512GB chips, thanks to the use of the firm's most advanced 512-gigabit (Gb) V-NAND flash memory and 16-layer construction. A new proprietary controller is used too, for exceptional transfer speeds and access times.
On the topic of performance, Samsung says that a new 1TB eUFS 2.1 storage chip can transfer data at up to 1,000 megabytes per second (MB/s), twice as fast as a typical SATA SSD. In terms of IOPS read performance, this metric is boosted by up to 38 per cent over the 512GB version, clocking in at up to 58,000 IOPS. Meanwhile, random writes "are 500 times faster than a high-performance microSD card (100 IOPS), coming in at up to 50,000 IOPS," asserts Samsung.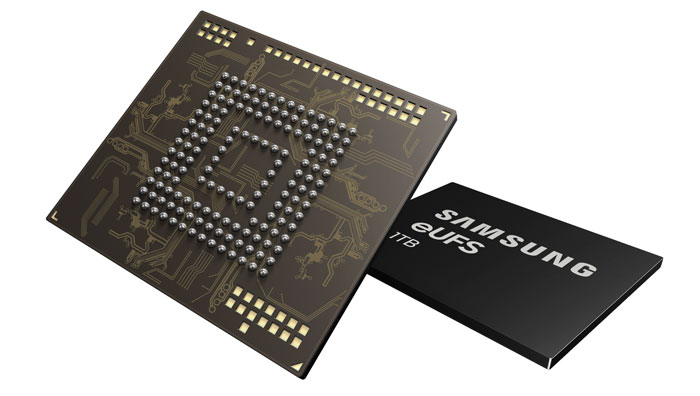 In practice the above performance stats should mean that smart device users can indulge in high-speed continuous shooting at 960 frames per second, and 5GB-sized full HD videos can be offloaded from your device to an NVMe SSD in as fast as five seconds. The capacity on offer here allows users to store up to 260 10-minute videos in 4K UHD (3840×2160) format, says Samsung, putting in the shade many current 'high-end' devices with 64GB of built-in storage (that can only hold 13 such videos).
With this announcement so close to the MWC 2018, it would be surprising if it isn't a teaser for something we will see at the show. Samsung says it foresees strong demand from device makers and will expand the production of the component 5th gen V-NAND chips throughout H1 2019 to quench this capacity thirst.
Samsung has produced a reference table which charts the progress of eMMC fixed storage over recent years and you can check it out below.