Doctor Mark Ombrellaro has designed a vest that uses ' air pressure and feedback from computer games to deliver pneumatic thumps to the spots on players' torsos where they would have been struck were they actually on the battlefields.'

According to the press release, the '3rd Space' vest will launch in the US in November with a custom made title and a rumble vest enabled version of Call of Duty II on PC.

According to Ombrellaro, the vest was originally designed as a medical device, "enabling doctors sitting at their computers to prod, poke and press patients' bodies from afar and get feedback on what they are virtually feeling," although it is yet to get approval from the US Food and Drug Adminstration.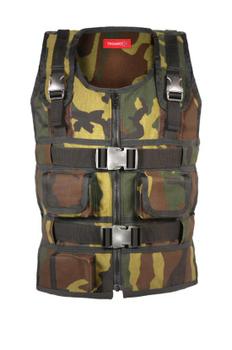 Ombreallaro's company, TN Games are currently testing to see whether their vest could be used in a range of shooters that are currently on the market.

"We can't wait for the multitudes of Quake and Doom gamers to strap on our vests and start 3rd Spacing." said Mark Ombrellaro, Founder/CEO, TN Games. "We believe it will not only enhance these best selling titles but bring an unprecedented new physical experience to each gamer. We will announce more 3rd Space enabled titles in the near future, bringing a seamless and interchangeable new physical reality gaming experience to an ever expanding list of current and future version titles." he continued.

Source :: TN Games